CEMEX S.A.B. DE C.V.
Cemex announces production expansion plan in Jamaica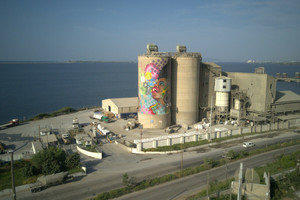 2 The mural "Reignited for Unity" was
unveiled to commemorate the 60th anniversary of the independence of Jamaica
Cemex has announced the plan to expand the production capacity at its subsidiary in Jamaica, Caribbean Cement Company Limited ("CCCL"). This expansion aims for an up to 30% increase in CCCL's cement capacity in Jamaica, through an investment of approximately US$ 40 million for the first phase of the project.
The announcement was made by Cemex's CEO, Fernando A. Gonzalez, during his visit to Jamaica, jointly with the Prime Minister of Jamaica Mon. Hon. Andrew Holness, relevant officials of the Jamaica Government, and key representatives from the company.
This expansion plan should be completed by the second half of 2024, and it is expected to strengthen the self-sufficiency of the national cement industry, while setting the basis to export and reinforce CCCL's ability to serve the growing construction sector in Jamaica and the Caribbean.
During the same event, the Minister of Culture, Gender, Entertainment, and Sport Hon, Olivia Grange; the Mexican Ambassador, his Excellency Juan José Gonzalez Mijares; and Cemex's CEO also unveiled a mural that commemorates the 60th anniversary of the independence of Jamaica. Titled "Reignited for Unity", the mural measures 15 m tall by 51 m wide and commemorate the 60th anniversary of Jamaica's independence. It depicts a jaguar man presenting his heart to a beautiful singing Jamaican female. The jaguar man is a representation of Mexican aesthetic culture, while the singing woman represents the beauty and spirit of Jamaica's people and music.
The mural is part of an initiative developed by Minister Grange named "Jamaica Creative: Paint Up Yuh Creative Space", where the Ministry aims to use art as a focal point to attract visitors to communities within the city, create satellite enterprises for community tourism projects, and beautify and rejuvenate the capital city. The mural was painted by Mexican artists Irving Cano and Freddie Herrera and Jamaican artists Anthony Smith, Yanque Yip, and Jordan Harrison.
With these projects and initiatives, Cemex confirms its commitment to continue contributing to build a greater Jamaica, betting on the growth opportunities of the construction sector in the country by developing relevant projects such as this expansion plan.