BEUMER Group GmbH & Co. KG, Beckum/Germany
After one year of new impressions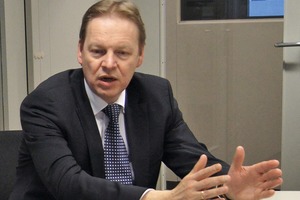 Credits: all BEUMER Group
Dr. Detlev Rose, CSO of Beumer Group GmbH & Co. KG explained, that customers are now also increasingly asking for all-in system solutions
Credits: all BEUMER Group
The BEUMER Group appointed Dr. Detlev Rose as its new Director Marketing/Sales with effect from 1 January 2014. In this post, he is responsible for global coordination of the planning, control and organisation of all of the group's marketing and sales activities. ZKG INTERNATIONAL met Dr. Rose in Beckum for an interview.
ZKG: Dr. Rose, you have worked for many years in a major concern, and were even chairman at ThyssenKrupp ­Polysius. How does it feel, after just on one year, to be on board a medium-sized enterprise?
Rose: The largest difference that I notice is in corporate culture. As a medium-sized enterprise, the Beumer Group is nonetheless almost as large as my previous employer at that time, but it is, and will remain, a family-managed company, in the form of an internationally active group, including Crisplant and Enexco Teknologies. The decisions taken pursue long-term aims, and this is also reflected in the Beumer family's philosophy: "We are looking for long-term success instead of short-term profits". This concept works and that, in my view, is how it will remain in the future – healthy structures survive even difficult times better, as we are currently seeing on several minerals and cement markets.
ZKG: How do you assess the global market?
Rose: Despite the current situation in the Near East, we are observing recovery in the Middle East, North Africa and North America. Many threshold countries seem to be stuck in the starting blocks, there's nothing much happening there at all ...
ZKG: And what about Brazil, Asia and Russia ...?
Rose: That's a tough one – major projects in Brazil and India have become rather a rarity. Russia was progressing well, but is now in retreat as a result of the sanctions, and the banks are scarcely willing to finance projects in such circumstances. There is also an urgent need to modernise production facilities and make processes more efficient. Chinese mechanical and plant engineering firms are themselves coming under pressure, because there are fewer projects at home, and there is surplus capacity, but labour costs have risen, with the result that the cost differentials between Europe and China are no longer as large as they were.
ZKG: Do you have similar views on the cement market?
Rose: Rates of growth in the 2005 to 2008 period were unnaturally high and caused overheating. As a result, there is now reticence concerning new investments in a number of regions. Beumer has numerous options, however – we supply many components and complete systems needed for cement production, and we do this both indirectly, via all-in turnkey plant engineers, and directly to ongoing projects. Our customers are now also increasingly asking for all-in system solutions, such as the "System" belt installation, Overland Conveyor and complete packing lines. All customers now focus primarily on operating costs, and environmental-policy aspects are now also being added, with the consequence that many haulage operations are being transferred from road to belt systems. One good example is our Pipe Conveyor, which transports material for multi-kilometre distances with no dust emissions. Whether it's coal, cement or lightweight abrasive solid recovered fuels – the Pipe Conveyor can handle practically anything, irrespective of weather conditions, and it's dust-tight and curve-capable. Just take harbours and cement plants, as an example, where bulk products need to be conveyed under adverse conditions and with restricted available space.
ZKG: So projects such as Vale, in Malaysia, should be viewed totally differently
Rose: That's right. There, Beumer Group was announced to supply seventeen troughed belt conveyors – the largest Conveying/Loading Technology order in the company's history. These troughed belt conveyors are used to unload up to 10 500 t/h of iron ore from Valemax (VLOC) class ships at the distribution centre in Teluk Rubiah, in the Manjung District, and the ore is then temporarily stored on land and then blended and delivered to customers in the Asia/Pacific region in smaller seagoing vessels.
All in all, we are further expanding an already good position, and we are well prepared for growth and the transition from a components to a system supplier. The trend is unequivocally toward all-in solutions. Our employees' high capabilities also ­enable us to enter new fields of business, from consulting and engineering, global service organisation up to and including supply of spare parts. I can perfectly well envisage supplying smart concepts complete with a five-year service package in the future.
ZKG: Is this also the reason for your decision to accept your new post at Beumer?
Rose: This job opens up a perspective on various segments in which Beumer is active. In addition, Beumer also has great potentials in the systems business. My experience up to now in plant engineering is also an asset for me, in helping to shape our road into the future, and supporting Beumer's transformation from a component supplier to a dependable systems provider.
ZKG: Dr. Rose, many thanks for your time and for these interesting insights!