SIEMENS AG
Cemat: Industry standard grows
with the times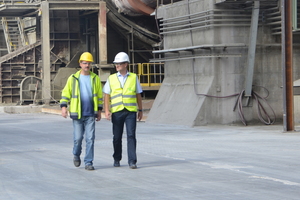 All Siemens AG/www.siemens.com/press
Since 1987, different Cemat versions have been in use at the HeidelbergCement site in Schelklingen/Germany
For 45 years, Cemat has been helping the cement, mining and related industries to keep production costs competitive and comply with regulations. With each new version, innovations have been integrated in line with technical progress. For the HeidelbergCement site in Schelklingen/Germany Cemat is a trusted companion.
The success story of Cemat, the standard software for cement plants, began in 1974. The initial release was based on the then newly developed Simatic S3 programmable logic controller, and the industry's first installation was in Cementos Hispania's site in Yeles/Spain. Over the course of time, the hardware and software platforms were subsequently replaced with Simatic S5 and Simatic S7 programmable logic controllers, in line with technological advancements. The standard modules for actuators, dampers and groups developed for the first version of Cemat were also replaced and extended from update to update. While each new version contains the latest technological innovations, the organization and core functions of the modules have always remained the same.
These constant updates are Cemat's recipe for success, because they ensure that every new version of the process control system is backwards compatible with all previous releases. In the meantime, the Cemat library has become a standard, not only for cement plants, but also for mining operations and related industries. Today, all leading cement plants in Europe employ Cemat. And with more than 800 installations worldwide, it is the leading process control system for the cement, mining and related sectors. In short, it is an industry standard.
A trusted tool
No wonder, then, that for decades large companies have been using Cemat across their operations – one of which is HeidelbergCement. Markus Konecki, Engineering/Senior Project Manager at HeidelbergCement Germany: "We have been using Cemat for more than 30 years now. It's one of our standard process control systems because of its high market acceptance and Siemens' long experience in the industry. Moreover, Cemat offers customized configurations that keep things simple." HeidelbergCement is currently investing more than € 100 million in the modernization of its plant in Schelklingen/Germany. The site came into operation in the mid-1970s and currently provides kiln production capacity of approximately 3500 t/a of clinker. The modernization, which is set to be completed this year, will transform the site into one of the most modern plants in Germany, if not in Europe, with an annual capacity of 1.5 million t of clinker.
At the core of the project is the construction of a new line according to the latest standards – including a new heat exchanger furnace with a rotary kiln, clinker cooler and exhaust gas purification system. The new line will replace the two existing rotary kilns at the site. Keeping with tradition, Cemat will continue to play an essential role. "Since 1987 we have been using different Cemat versions in this cement plant location. Especially for our new kiln line, we will be using the latest state-of-the-art process control system Cemat Version 9.0," says Stephan Wehning, Plant Manager of the HeidelbergCement Schelklingen site.
New features in Cemat
Cemat Version 9.0 includes improvements to existing functions as well as a number of new functions. For example, the process control system covers the entire automation chain, from the extraction of raw materials to the packaging of the end products. With integrated operating and diagnostic functions, potential malfunctions can be detected more quickly and downtimes minimized. "Our development work for Version 9.0 focused on optimizing the control system. In addition to these improvements, there are a number of impressive innovations that make work easier for engineers and plant operators," says Johannes Vorsamer from the Cemat development team at Siemens.
Investment security is ensured by the fact that Version 9.0 is still backwards compatible with all previous releases up to version 1.8, which was introduced in 1987. This means that even older PLC programs can still be operated and integrated into the latest version of the process control system. In short, the decision for Cemat can be made with a clear conscience – which is proven by Heidelberg Cement's repeat trust in the Siemens process control system.