KIRCHDORFER ZEMENTWERK HOFMANN GESELLSCHAFT M.B.H.
Commissioning of the "burnout section" at the Kirchdorf cement plant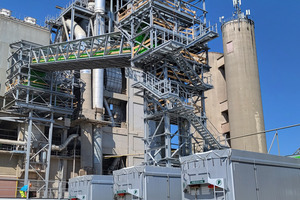 1 Feßl; 2 Ehrenhöfer
2 Kiln-ready delivery: In the new "EBS 5" loading terminal, the refuse-derived fuel deliveries go directly from the trailer to the kiln plant
1 Feßl; 2 Ehrenhöfer
On May 13, 2022, the new "burnout section" was officially put into operation. With an investment of € 9.5 million, the Kirchdorf cement plant once again defends its claim to be one of the lowest-emission cement plants in the world. CO emissions were reduced by a further 17% and the use of coarser alternative fuels was made possible.
At the Kirchdorf cement plant – a member of the globally active Kirchdorf Group – up to 95% of the fuels are already replaced by so-called substitute fuels such as shredded plastics, tire lint, wood and plastic dust. The complete recycling of materials saves valuable resources and CO. The new burnout section now also allows coarser substitute fuels to be processed, which already saves valuable energy during preparation. In addition, CO emissions have been reduced by a further 17%.
"By investing in state-of-the-art environmental technologies, our cement plant is setting international standards. In terms of emissions of carbon monoxide, nitrogen oxide and dust, Kirchdorf shines in an international comparison with the lowest values. Experts, competitors and politicians from all over the world visit our site to see the high-performance plant for themselves," explains Erich Frommwald, Managing Director of the Kirchdorf cement plant.
"The greening of the economy is a win-win situation for the environment and the companies: because the switch to sustainable production not only contributes to climate protection, but also strengthens the competitiveness of the companies. A real pioneer in this respect is the Kirchdorf cement plant, which has once again been demonstrated by the new 'burnout line'. Here, the use of substitute fuels massively increases independence from fossil fuels. At the same time, CO emissions are further reduced and valuable resources are also saved through complete material recycling. The Kirchdorf cement plant thus proves to be a prime example of how ecology and economy are 'turbo twins', especially in Upper Austria as a business location," emphasized Economic Affairs and Energy Provincial Councillor Markus Achleitner during the official commissioning of the new "burnout line".
With the investment of € 9.5 million in the burnout section, the new transfer and metering system for the substitute fuels, and the traffic concept adapted for this purpose, the Kirchdorf cement plant is consistently continuing its process optimization. Being able to continue to produce in an environmentally friendly manner ultimately also contributes to securing the location.