Industrial sector shows unity and strength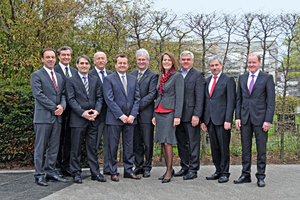 Source/Quelle: IWM
The new IWM committee (l. to r.): Peter Hartmann, Ludwig Soukup (Deputy Chairman), Alexis Pimpachiridis, Peter Bednarek, Michael Gieding (Deputy Chairman), Dr. Andreas Weier (Deputy Chairman), Heike Horn, Reimund Zeilnhofer, Dr. Hans-Joachim Riechers (MD), Carsten Beier. Not on the photograph: Peter Sarantis (Chairman), Prof. Hans-Ulrich Hummel, Bruno Reisch (Deputy Chairman)
Source/Quelle: IWM
Wind and waves, sometimes accompanied by bright sunshine, sometimes by clouds and rain – such was the weather at the ­Baltic Sea resort of Travemünde, when the Industrieverband ­WerkMörtel (IWM) held its annual industry congress for 2013. The mixed weather could almost be taken as symbolic for the situation of the industry: the long winter had led to a slump in production. This had been exacerbated by media criticism of thermal insulation composite systems that had caused much uncertainty among building constructors and property owners. Despite this background, the industry never­theless showed unity and strength in Travemünde.
The IWM had prepared an extremely interesting programme which did not ignore critical topics. It was moderated by Burk-hard Fröhlich, Chief Editor of the construction industry journal "Deutsche Bauzeitschrift" (DBZ).
Traditionally, the IWM welcomes representatives of related industries and trades and crafts associations to its annual congress. "We can only solve the thermal insulation issues by working together, and only if we take a joint initiative", Dr. Hans-Joachim Riechers, Managing Director of the IWM, appealed to the gathered members and guests. He expressed the opinion that the campaign "Wärmedämmung mit Augenmaß" was a step in the right direction, and pointed to the good response achieved with the new "Ratgeber rund um die Außenwand". Furthermore, the IWM was involved in the action "Wärme im Dialog" that had been jointly initiated by a group of associations.
The congress programme also included a number of industry-related presentations, including the controversial title "Lobbying in Brussels – David against Goliath?" by Antonio Caballero González, General Secretary of the European Calcium Silicate Unit Producers Association, ­ECSPA.
On the second day of the annual congress, the first point on the agenda was the amalgamation of the two national monitoring associations "Mortar" and "Ready-mixed Concrete" into a single organization, which worked smoothly. The subsequent general meeting remained highly interesting. "Together with our members, we have to set the course for a further year with many new activities", Dr. Riechers told the participants.
The unavoidable formalities also had to be observed. The old committee having been in office for two years, a new one had to be elected. Peter Sarantis was again elected as Chairman. A Deputy Chairman was elected for each of the four sectors dry mortar, paste products, thermal insulation systems and factory-prepared green mortar.