BVK | BG RCI
Lime industry aiming for more safety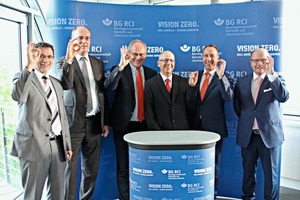 BG RCI/BVK Marcin Czerwinski
Standing together for more workplace safety (from left): Helmut Ehnes, Prevention Manager at BG RCI; Christoph Weise, BVK Syndic; Martin Ogilvie, BVK Managing Director; Hans-Peter ­Thomas, BVK Workplace Safety Committee Chairman; Ulrich Meesmann, Member of BG RCI Executive Board; and Wolfgang Pichl, Head of BG RCI Division 1 Raw Materials – Building Materials
BG RCI/BVK Marcin Czerwinski
The Bundesverband der Deutschen Kalk­industrie e.V. (BVK – German Lime Industry Association) and the Berufsgenossenschaft Rohstoffe und Chemische Industrie (BG RCI - Raw Materials and Chemical Industry Employers' Liability Insurance Association) want to cooperate more closely with lime industry companies for the implementation of the accident prevention strategy "Vision Zero. Zero accidents – work healthily".
The concrete goals prescribed by the strategy are supposed to be reached by the year 2024. This includes reducing the risk of workplace accidents by 30 % and the number of fatal work-related ­accidents by 50 %. Appropriate preventive measures are to be taken to increase the number of zero accident facilities. The envisaged measures include ­better analysis of key occupational hazards (a.k.a. occupational hazard black spots), strong support for small and medium-size enterprises where safe working practices may tend not to be firmly anchored, and still more personal in-plant advice and guidance.
BVK represents some 50 companies with nearly 100 plants in all. Together, their more than 3000 employees produce roughly 6.5 million t of lime per year for revenues totalling approximately € 750 million (status: 2015).