DEUTSCHE BAUCHEMIE E.V.
New Board of Management elected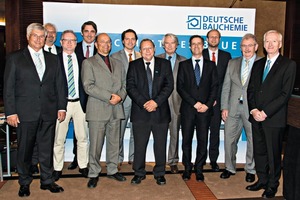 All: Deutche Bauchemie e.V.
1 The newly elected Deutsche Bauchemie Board of Management (from right): Johann J. Köster, Dr. Erhard Jacobi, Thorsten Schneider, Dr. Christoph Riemer, Dr.-Ing. Claus-Michael Müller, Dr. Josef Weichmann, Dr. Christoph Hahner, Jan-Karsten Meier, Dirk Sieverding, Joachim Straub, Andreas Wilbrand and General Manager Norbert Schröter (not shown on this photo: Dr. Rüdiger Oberste-Padberg)
All: Deutche Bauchemie e.V.
During its 67th annual conference, convening in Hamburg/Germany on 25.06.2015, Deutsche Bauchemie, the German building chemicals industry association, elected its new Board of Management, awarded its Science Medal and two promotion prizes, and also announced the upcoming expansion of networking activities for the industry in Berlin.
The board elections, held every two years, confirmed the three-person management body currently presiding: ­Johann J. Köster (Köster Bau­chemie AG) remains chairman; his deputies continue to be Dr. Christoph Riemer (Wacker Chemie AG) and Joachim Straub (Sika Deutschland GmbH). New members elected to the board are Andreas Wilbrand (Sopro Bauchemie GmbH) and Dr. Christoph Hahner (DAW SE).
Other board members include: Dr. Erhard Jacobi (CTP Chemicals and Technologies for Polymers GmbH), Jan-Karsten Meier (StoCretec GmbH), Dr.-Ing. Claus-Michael Müller (MC-Bauchemie GmbH & Co.), Dr. Rüdiger Oberste-Padtberg (Ardex GmbH), Thorsten Schneider (Henkel AG & Co. KGaA), Dirk Sieverding (Remmers Baustofftechnik GmbH) and Dr. Josef Weichmann (PCI Augsburg GmbH).
Among other topics, Chairman Johann J. Köster emphasised in his address to the around 130 conference participants the ever more important networking of the industrial association, both nationally and internationally. Now that Deutsche Bauchemie has taken this step at European level, with the setting-up of its own office  in Brussels, the intention is to also become more active in ­Berlin: Köster announced the premiere of the "Building Chemicals Industry Forum" for this autumn, a dialogue event with high-ranking speakers and participants to be held at the Technical University (TU) of Berlin with representatives from the world of politics, the authorities and technical institutions attending. "We sincerely hope that we will be able to establish this meeting as a regular event with high content quality in the German capital", Köster continued, on the industry forum. General Manager Norbert Schröter was also honoured for his 25 years of service.
Also recurring every two years is the presentation by Deutsche Bauchemie of its long established awards for highly qualified up-and-coming personnel in this industry: the Deutsche Bauchemie Scientific Medal 2015, worth 4000 €, was awarded to Dr. rer. nat. Stefan  Matthias Baueregger for his doctoral thesis on the "Interaction of latex polymers with cement-based building materials". A 2000 € promotion prize was awarded to each of two recipients, ­Luise Göbel, M.Sc., for her Master's thesis, "Complexing of calcium ions in cement paste pore fluid using polyvinyl alcohol" and Christina Krämer (M.Sc.) for her Master's thesis, "Investigations into the modification and incorporation of three-phase foams in foamed concrete".
The annual conference's papers section offered an interesting selection of topics, drawn from politics, corporate management and science: Dr. Berend Diekmann (Head of Department VA1 at the Federal Economics Ministry) reported on the fundamentals of, hindrances to and current status of negotiations on the TTIP free-trade treaty, in which he himself is intensively involved. The subsequent discussion generated a clearly positive signal to the participants, and the desire for a successful conclusion, in view of the many bilateral relations existing between and with Deutsche Bauchemie member companies. Torsten Voß, Head of the Hamburg State Authority for the Protection of the Constitution, spoke on the dangers presented by electronic and human industrial espionage, and how companies can protect themselves against it. Prof. Dr. Andreas Rödder (University of Mainz) discussed in conclusion "the German problem in Europe – between self-image and outside perception" – a subject currently of great topicality, in view of Germany's present role in Europe, and with interesting historical dimensions.