BHS-SONTHOFEN GMBH⇥Hall/Stand 4-227
New twin-shaft mixers for dry building materials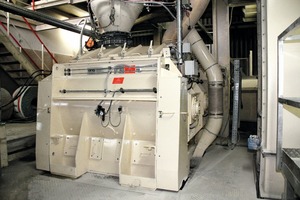 All BHS-Sonthofen GmbH
1 A dry powder batch mixer of type DMX 3600 has proven itself for years in a German dry mortar plant
All BHS-Sonthofen GmbH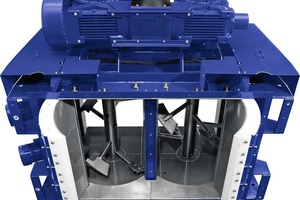 2 Large, hydraulically operated discharge door wings that are available in two variants for fine and coarse-grained mixture products
BHS-Sonthofen displays dry powder batch mixers of the DMX series. They are adapted to the special requirements of mixing dry materials, such as cement, dry mortar, bonding compounds and dry shotcrete.
The mixers are specially tailored to the production of dry material mixtures. Since dry building materials encompass a wide range of aggregates, cements and admixtures, different application-specific drive variants are available for the mixers with different speeds and mixing tools. These can be individually configured according to the application, e.g., for abrasive or adherent input materials.
They are suitable for mixtures containing all manner of aggregates, cement, small dry components, plastic fibers and cellulose. With an extensive modular system and various options, they can be customized to the products of the user, from fine-grained materials such as cement to mortar mixtures with coarse particles up to 8 mm in size. BHS offers a range of machines with throughput rates of up to 300 t/h.
Compared with single-shaft mixers, they offer considerably better mixing with short mixing cycles. Furthermore, the DMX mixers are more compact than single-shaft mixers and also represent good value for money.
Homogeneous mixtures
BHS has developed the DMX series on the basis of the twin-shaft batch mixers (type DKX), which have been used in thousands of concrete mixing applications worldwide. The mixing mechanism consists of mixing tools that are arranged in the form of a discontinuous spiral on each of two counter-rotating mixing shafts. They generate a three-dimensional spiral motion with intensive exchange of material in the turbulent zone of overlap between the two mixing cycles.
Thanks to the sophisticated mixing mechanism, the speed of the mixer can be less than that for comparable single-shaft or intensive mixers while still producing a greater mixing effect. This considerably reduces the energy consumption and is also gentler on sensitive components in the material to be mixed, such as perlite, styrofoam or expanded clay – the particles are not crushed.
Compared with other mixing systems, twin-shaft mixers are filled to a much greater extent, making them more compact for a comparable throughput rate. In the case of new plants, these mixers are thus ideal because of their small dimensions; for modification to existing plants, they allow the installation of a more ­powerful mixer in the existing space.
Residue-free discharge
Since many manufacturers produce different products in succession, a residue-free discharge of the trough is important. In the case of the DMX, this is carried out by means of large, hydraulically operated discharge door wings that are available in two variants for fine and coarse-grained mixture products. The discharge door wing for fine-grained mixtures has a seal to prevent fine-grained materials, such as cement, from escaping; it is also waterproof. The mixing shafts are fitted with special sealing air seals.
Excellent resistance to wear
Depending on the abrasiveness of the mixture, various wear liners are available. All wearing parts in the mixer, such as mixing arms or blades, are screw-fitted and are thus easy to adjust or exchange. This simplifies maintenance and increases the availability of the plant.
Tests in the BHS technical center
Every dry material mixture has different characteristics; for this reason, BHS conducts tests at its in-house technical center on request. These tests give the customer the certainty that his outlay is well invested and that the new plant is future-proof.