FRAUNHOFER INSTITUTE FOR BUILDING PHYSICS IBP
Research for change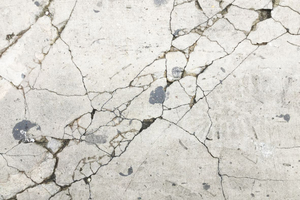 Shutterstock/Moolkum
2 Among the best-known irreversible damage occurring in concrete structures – for example in the form of cracks in railroad ties or highways – is caused by the alkali-silica reaction (ASR)
Shutterstock/Moolkum
The construction industry is constantly facing new challenges: The advancing and necessary digitalization in the construction sector, an increasing scarcity of resources, the increased demands on the energy efficiency of buildings or their indoor climate, as well as increasing urbanization are key aspects. Last year, the Corona pandemic also called for new solutions, for example for public life as well as for working in one's private home. The Fraunhofer Institute for Building Physics IBP in Stuttgart and Holzkirchen (near Munich) is looking for product and system solutions in the areas of climate neutrality, digital transformation, the circular economy, promising material developments, protection against Covid-19 in the workplace, and Work and Living 4.0.
Climate neutrality – the challenge in the building sector
In view of the increasing urbanization and equally growing stresses on urban structures caused by climatic influences such as flooding or heat islands, new processes, systems or materials are indispensable for improving and safeguarding the quality of life and the environment in our cities. Urban surfaces offer a large, versatile scope for design in this respect. So far, however, these have been geared only to the permanent fulfillment of individual purposes. The aim of the BUOLUS project (Building Physics Design of Urban Surfaces for Sustainable Environmental and Quality of Life in Cities), coordinated by Fraunhofer IBP, is to exploit their holistic potential. In addition to horizontal surfaces, vertical surfaces are also playing a key role due to the increasing density of buildings. Fraunhofer IBP scientists have therefore developed a "multifunctional ventilated curtain-wall façade" that contributes multifunctionally to climate resilience and quality of life by reducing heat, noise and air pollutants: External noise is reduced via an acoustically transparent but rainproof exterior cladding with a sound-absorbing layer behind. The thermal and fire protection layer that is present in a curtain-wall façade anyway serves as an additional sound absorber. Furthermore, it is able to draw in urban air contaminated with pollutants via the rear ventilation level and release it back into the environment in a purified form. Thanks to the modular design, the functions can be flexibly adapted and combined according to requirements, costs and aesthetic aspects. Subsequent greening is also possible.
Resources and recycling – Using CT analytics and lasers to identify structuraldamage, optimize materials and establish innovative building materials
In the field of civil engineering, the combination and composition of different materials play an important role: The microstructure of materials is a decisive factor in determining the functional and mechanical properties of components. Detailed knowledge of their internal structure enables targeted optimization of properties and helps in the development of new, innovative materials – which the construction industry urgently needs in times of increasing resource scarcity. For this reason, Fraunhofer IBP scientists combine, among other things, established testing methods with computed tomography analysis. Samples up to ten centimeters in size are X-rayed and then digitally displayed and analyzed in the micrometer range. This non-destructive method offers particular advantages in the examination of component damage. With micro-CT, it is now possible to determine and display damage patterns such as crack formations, fiber distribution or the pore size distribution in building materials in three dimensions. This allows drawing conclusions about quality characteristics such as durability as well as the acoustic and thermal insulation properties of a building material. Micro-CT will be used primarily for targeted product development of building materials.
Among the best-known irreversible damage that occurs in concrete structures - for example in the form of cracks in railroad ties or highways - is caused by the alkali-silica reaction (ASR). This is triggered by siliceous aggregates that react with alkaline water in concrete under certain conditions to form a swellable alkali-silica gel. Existing methods for testing aggregates are very time-consuming and costly, so that early detection of damaging reactions is not possible. Fraunhofer IBP has developed a rapid ASR testing method that delivers valid results within just a few hours. To do this, the researchers use Raman spectroscopy: they irradiate the test specimen with a laser, causing shifts in the wavelengths between the irradiated light and the light scattered by the specimen. Based on these shifts, they can then draw conclusions about the individual materials and thus about the degree of molecular bonding in the aggregate. From this, in turn, it can be deduced whether or not it is susceptible to the ASR reaction.
In contrast, a sustainable and innovative building material made from Typha is considered to be less susceptible to damage. The use of cattail (lat. Typha) as a raw material for building material production is associated with numerous ecological and economic advantages. Even its cultivation holds potential, such as the purification of nutrient-polluted surface waters. As an aquatic plant, Typha is also resistant to mold, and the structural composition of its leaves makes it light and stable. Taking advantage of these natural properties, researchers at Fraunhofer IBP have been working for years with architect Werner Theuerkorn on a variety of products that all feature an excellent combination of structural and insulating properties and are low-energy in production. The latest development is a magnesite-bonded on-roof insulation board that has an insulating effect (0.045 W/mK) comparable to wood-fiber insulation boards, but offers greater strength and, above all, excellent fire protection – without the disadvantageous tendency to smolder. By waiving additives such as biocides, complete recycling into the material cycle is possible.
The construction industry on the way to digital transformation
The "VR MultiSense" demonstrator developed by Fraunhofer IBP makes it possible to get a sense of a building and its interior without ever actually entering it. In the form of a digital twin, planners, builders, product manufacturers and users can not only virtually inspect the planned building, but also feel it by means of further sensory impressions: light, heat, cold, air flows and quality are represented tangibly via sensors and actuators. Other variable factors for the simulation are the outside temperature, building construction and building technology. In this way, users can make statements about the effect of individual building elements – such as façade or window elements, building products or assembly conditions – in different combinations and thus participate in planning decision-making processes in a more informed manner. For architects, planners and builders, it is thus possible to reliably plan future projects beyond fact-based expertise and to realize them to the extensive satisfaction of customers.
Digital transformation is also one of the core topics for the Small and medium-sized enterprises 4.0 Competence Centre "Design and Con­struction" (Mittelstand 4.0-Kompetenzzentrum). The center supports – under the auspices of Fraunhofer IBP – small and medium-sized enterprises in the construction and real estate sector, for example, in the introduction and implementation of Building Information Modeling (BIM). Working and living in the future – more safety in public life, people who work at checkouts or counters are at particularly high risk of contracting Covid-19. Usual hygiene measures such as wearing masks or installed acrylic glass walls offer only limited protection, as the viruses can get behind the shielding, for example. To minimize the likelihood of infection at these workplaces, Fraunhofer IBP developed the "protective sky" – a kind of airlock that shields affected employees from the rest of the room air. The air filtration device, which is the size of a room humidifier, is operated independently of the building control system and can be flexibly deployed by means of rollers. The protective canopy draws in the room air, filters it through a so-called "High Efficiency Particulate Air Filter (HEPA)" suitable for viruses and then returns it via an air outlet directly above the workplace. The constant air flow prevents ambient air from entering the work area.