SIEMENS AG
Simulation software Simit 9 minimizes risks ­prior to actual ­commissioning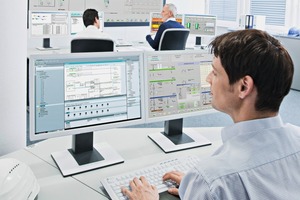 Siemens AG, Munich/Berlin; www.siemens.com/press
Siemens is launching ­Version 9 of Simit, marking a new gener­ation of its acclaimed virtual ­commissioning and plant ­operator ­training simulation ­software
Siemens is launching Version 9 of Simit, marking a new gener­ation of its acclaimed virtual commissioning and plant operator training simulation software. The new software generation is based on a standardized simulation platform. Using Simit 9, automation functions can be comprehensively tested for development or functional faults and optimized prior to actual plant commissioning using real time simulation and emulation. By adopting existing planning, engineering and automation data as well as libraries containing functionally capable components over interfaces to Comos and Simatic PCS 7, the new Simit generation helps real commissioning processes to be carried out more quickly, more economically and with fewer risks.
Simit 9 allows testing and optimization of the automation solution within the simulation and emulation environment on a completely virtual basis using a totally integrated virtual controller. The virtual plant test can be performed directly at the workplace without available plant equipment and without the need for in-depth simulation expertise.
The new Simit generation also offers scope for safe, ­efficient training of plant operating personnel. Different plant operating scenarios can be simulated using realistic training ­environments. Operators can be familiarized with the plant using original operator panel screens and automation programs in advance of actual commissioning. Using Simit as a training ­system not only reduces the use of actual resources, it also ­allows possible hazards for operating staff in running operation to be minimized or even avoided altogether.
To ensure that the Simit simulation solution can stay abreast of the latest technological developments, Siemens ­offers what it calls the Software Update Service (SUS). Version 9 of Simit also supports new operating systems such as ­Microsoft Windows 10 and Server 2012 R2.