BEUMER GROUP GMBH & CO. KG
Smooth material flows for customers – even on the customer's site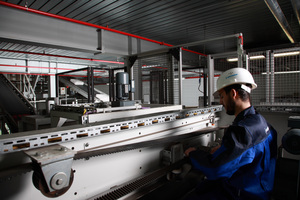 All Beumer Group GmbH & Co. KG
1 Within the scope of the Residential Service, Beumer employees assume the responsibility for availability, performance and profitability
of the machines
All Beumer Group GmbH & Co. KG
For the Beumer Group, Customer Support is much more than just a service. Approximately 1000 employees worldwide now work for this business segment. They take care of the customer, starting with the first project discussion, through the time when the system is in operation. The portfolio offered includes different services, in particular Residential Service. With this service, companies can hand over the complete responsibility for availability, performance and economic efficiency of their material flows to Beumer specialists, who ensure trouble-free operation of the systems – and even stay permanently on the customer's site.
As an international manufacturing leader in intralogistics providing customised system solutions in the fields of conveying, loading, palletising, packaging, sortation and distribution technology, the Beumer Group knows the particular challenges posed by the customers. They have high demands on machine availability and, therefore, on customer support. This is why the system supplier has developed and extended its customer support and established it as a business segment in its own right. Due to its global positioning, the group has consistently optimised and extended this segment with specifically trained employees during the last few years. "We're not only providing service products, we really take care," emphasizes Guido Hesse, Director Customer Support at Beumer. "This becomes more and more important to users from different industries." A continuously high level of availability has to be ensured to enable companies to stay competitive.
Enough time to focus on the core business
Beumer Customer Support offers customised service agreements to customers. These include, for example, the supply of spare parts, preventive as well as routine maintenance, and the operation of the systems. They are matched individually to the respective needs of the customer, including service intervals and response times as agreed by contract. "More and more manufacturers, especially logistics service providers, wish to concentrate on their own core business and to delegate the responsibility for their systems and machines", says Hesse, identifying a pronounced trend. "Therefore, Residential Service plays an important role within our Customer Support portfolio." This service means that Beumer employees take on the responsibility for operating times, performance and economic efficiency – if necessary, they stay permanently on the customer's site. The systems always have to be perfectly adapted to their tasks, and all processes have to run smoothly. "In a highly competitive environment, we convince our customers with reliability and a high level of system availability," explains Hesse. Successful customer support requires an understanding of the mentality of the customer.
The Beumer Group offers around-the-clock support every day of the year, tailored to the needs of its customers. "Our goal is to continue to improve trouble-free material flow in order to guarantee value-added processes for our customers", explains Hesse. "We assume the complete responsibility and ensure in this way that they remain competitive in the long run."