AMR A. NADER, CEO AND CO-FOUNDER OF A3&CO.®
Launching the Green Cement Conference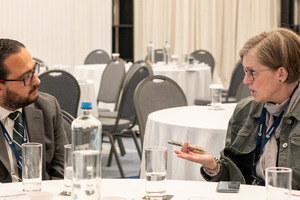 CemBR
In conversation: Eng. Amr A. Nader, CEO of A3&Co.®, and Anke Bracht M.A., Deputy Editor-in-Chief of ZKG Cement Lime Gypsum
CemBR
Cement Lime Gypsum had the opportunity to talk to Amr A. Nader, CEO and Co-Founder of A3&Co.®, as the knowledge partner of the "Green Cement Conference" in Athens. A3&Co.® L.L.C. is a UAE-based consulting company for the cement sector.
Are you satisfied with your conference that has just ended?
When evaluating this conference, I consider it from three different viewpoints: the content aspect, the value enhancement perspective, and the commercial angle. The commercial aspect can be disregarded since the intention isn't to generate profits from conferences; rather, the aim is to at least break even and cover the expenses. The second aspect is the value enhancement, where I believe we managed to establish numerous connections between ideas. For instance, the CCUS panel, the SCMs panel, and the alternative fuels panel, all of which I've attended various climate conferences and these three panels, over the past two days, have garnered a significant level of agreement and approval.
What were your main aims with this event?
The concept for hosting the conference originated from CemBR. While we engage in numerous conferences as knowledge partners, this marked our inaugural involvement in Europe as such. The main impetus behind this idea was spurred by CemBR's desire to deviate from the norm of standard conferences. This endeavor mirrors our ambition last year during our collaboration in co-organizing the WCA Annual Conference in Dubai, where our intention was to create a distinct conference experience. This is an area in which we possess substantial expertise and engage with ardor. Having participated in conferences since 2000, spanning nearly 25 years, I've never encountered a cement conference from which I emerged with tangible benefits or added value except with some Cemtech and Global Cement conferences. Conferences typically tend to be commercialized, centered around advertising, and reiterate content that I'm already familiar with. Therefore, when we entered the realm of conference partnership, our focus and trajectory shifted towards delivering value. Consequently, these two principles converged, leading to the decision to initiate the conference. The primary aim was to enrich the cement sector's understanding of decarbonization dynamics. The approach encompassed diverse perspectives, yet the central objective remained centered on the cement industry and its journey towards decarbonization. Our endeavor sought to unite stakeholders and participants from across the value chain to ensure a comprehensive perspective, enabling the cement community to perceive the entire landscape from various vantage points, thereby augmenting their knowledge. This approach extended beyond the cement sector, encompassing elements such as clean energy, climate technology, carbon technology, and technology providers, all contributing to steering the industry towards decarbonization, hence the nomenclature "Green Cement Conference".
It is a really broad topic and field to deal with and to face. Are there aspects that are more urgent than others or that need to be particularly accelerated?
Speaking for myself, I've developed a profound interest in dedicating my focus to this industry direction, particularly since COP 26. Prior to COP 26, my commitment to sustainability and climate-related endeavors was evident within my role in the industry, where I aimed to achieve maximal impact. However, during COP 26, two noteworthy occurrences transpired. First, there was a significant amount of attention directed towards actions that are unlikely to yield substantial outcomes, resulting in delays. Second, while I hesitate to label it as "green-washing", the presence of numerous misguided voices in discussions drowned out the valid ones. Given my deep-rooted passion for the cement sector and my foundational grasp of sustainability principles, I resolved, and even reached out to my Communication Director from Scotland to convey this, that over the next two years, we would undertake an advocacy role to rectify this situation. This initiative was sparked by discussions with Ian Riley during COP 26, culminating in our decision to organize the WCA Annual Conference the following year. It became apparent that a crucial message needed to be communicated accurately amidst the clamor of divergent perspectives.
And this year's WCA Annual Conference is supposed to be the follow-up of last year to see what has happened and has been achieved in one year.
Maintaining the momentum of a successful endeavor is indeed a formidable task. Even something as prominent as the World Cup struggles to replicate its success twice. Ian is leading the conference this year, and my level of involvement in the program is not as extensive as it was last year. Nevertheless, we remain in contact, engaged in discussions, and I will play a certain role in the proceedings. My aspiration is for the conference to uphold the same level of vigor as it did in the previous year. Recreating the success of a notable milestone is undoubtedly challenging. While our aspiration is to continually improve, consistently taking positive strides is precisely what the industry necessitates I'd like to share a statement that I refrained from using during the conference, and it's often challenging to openly express to a wide audience. However, it's crucial: the linchpin of sustainability is the circular economy. This concept is pivotal not only for rendering CCUS a viable choice, by repurposing carbon as a resource within circular processes, but also for transforming waste management into a workable solution through circular thinking. Consequently, the viability of green cement as a solution hinges on embracing the circular economy. Ultimately, the crux of these matters lies in the eventual implementation of Scope 3 as a requirement. This assertion is difficult to proclaim publicly due to the complexity of calculating Scope 3, yet it holds the potential to definitively address sustainable environmental concerns.
Having finished this conference what are your next plans and projects?
We're not merely transitioning from one conference to another; rather, we've established a comprehensive communication strategy within our broader initiative termed the "Path to Green Construction". This path encompasses three fundamental components: our communication strategy, our contributions to a greener built environment, and our ongoing efforts in cement decarbonization, constituting our proactive environmental approach. Our communication strategy centers on conveying precise messages using the appropriate platforms. Looking ahead, we have Cemtech and WCA events scheduled for October, in addition to an event focused on the built environment, which is currently in the developmental stages and anticipated to be finalized before COP 28. We're also planning to contribute to COP; however, this participation requires multiple approvals, which are currently underway but not yet confirmed. Beyond COP, the AUCBM Conference is planned for January in Saudi Arabia.
So you are active in all different parts of the world. But your projects vary depending on the part of the world?
Our core focus lies within the realm of cement, a universally distributed commodity. In addition to our endeavors in decarbonization and climate-related services, our scope encompasses digital maturity services and cement operational services. Given that climate services are an integral aspect of our business framework, these various ventures are mutually reinforcing. Therefore, as a component of our business strategy, it's imperative for us to engage with customers on a global scale, connecting with them worldwide and fostering collaboration, much like we aim to achieve here.
Will there be more events like this in the future?
In fact, we received an invitation just yesterday to replicate this event within another country, a prospect that might materialize soon. The cement community has expressed interest in such initiatives, despite their absence in the past.
Maybe it is this snowball effect that you have then, which would be helpful for everybody.
Although not ingrained in our business model, as evident from everything you've observed, all these contributions are provided on an CSR basis. Our approach doesn't revolve around treating it as a business venture but presenting a new voice for knowledge partnership. It springs forth from an inherent passion for the subject; we allocate our resources because it bolsters our overall value. Effective advisory within an ecosystem necessitates an intimate familiarity with its intricacies, requiring active participation. As long as this endeavor aligns with our business trajectory and doesn't disrupt our operations, we wholeheartedly support it.
Thank you very much for your time and having me at this conference.
www.a3cement.com
Terry Pavlopoulos, CEO CemBR
"The main focus of the conference wasn't just cement it was many other industries: finance, carbon tech, climate tech. The speakers came from a wide range of industries, it was not just cement or equipment manufacturers, but the audience was much broader. That was the fundamental point of this event."
Amr A. Nader, CEO A3&Co.
"The journey involves incremental steps, not just one significant leap, with the conferences' focus on highlighting the path towards circularity and immediate actions."