SIEMENS AG | CONG THANH CEMENT JOINT STOCK COMPANY
A holistic approach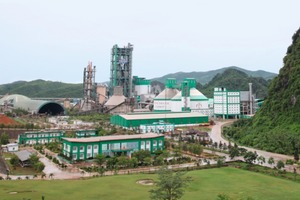 2 Located in the scenic hills of the province of Thahn Hao, the Cong Thanh cement plant is one of the largest single cement production lines in Asia
In an environment characterized by tightening emissions standards and rising production costs, Cong Thanh cement plant in Vietnam benefits from a one-stop solution comprising an integrated automation and drive system from Siemens.
Vietnam is undergoing rapid industrialization and modernization. One of the results of this transformation has been a substantial increase in the country's demand for cement. With a capacity of 12 500 t of clinker per day, the new production line at the Cong Thanh cement plant was built to help meet that demand. The increased capacity has made the plant one of the largest cement production facilities in Asia.
Siemens was contracted by the Cong Thanh Cement Joint Stock Company, a subsidiary of the Cong Thanh Group, to provide all the electrical and automation infrastructure for the plant's new...