W&P ZEMENT GMBH
CO2 reduction: promising pilot operation at w&p Zement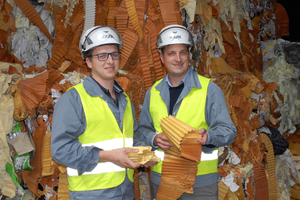 All w&p Zement GmbH
1 In future, Bertram Juritsch, Waste Management Director of w&p Zement, and Florian Salzer, w&p Zement Plant Manager in Wietersdorf, plan to save more CO2 emissions by using paper
and cardboard waste
All w&p Zement GmbH
w&p Zement in the Görtschitz Valley has achieved further progress towards lower-emission and thus more sustainable cement production: following the initial period of the two-year pilot operation at w&p Zementwerk Wietersdorf, the knowledge gained shows a CO2 savings potential of around 6000 t/a. This is mainly possible thanks to the use of low-carbon fuels, whose optimum deployment is currently being tested in Wietersdorf.
Promising initial pilot period
The current two-year pilot operation is intended to reveal the optimum fuel composition to sustainably reduce the amount of fossil CO2 emissions. The findings from the initial trial, covering the period between November 2017 and March 2018, have now been evaluated and are promising. Increasing the biogenic content of the fuel and optimising the operation of the thermal post-combustion and mercury reduction plant constructed in recent years, has already resulted in high savings potential.
"The initial results also show potential for the reduction of nitrogen oxides. We're also pleased that no change in product quality could be detected, despite the CO2 optimised fuel composition," says Florian Salzer, Plant Manager at w&p Zementwerk Wietersdorf, who is responsible for the pilot operation. During the initial pilot period, the biogenic content of the fuel was increased by seven percent, compared to the previous year.
Constant CO2 reduction as a corporate goal
"We must all take action to continuously reduce CO2 emissions. Our pilot operation will allow us to gain extensive knowledge, in order to make a sustained contribution to the low-emission production of cement," according to w&p Zement Managing Director, Lutz Weber. Following the investment of recent years, the cement works in Wietersdorf is set to become one of Europe's cleanest cement plants.
The trial in Wietersdorf is being implemented in close cooperation with the authorities and will run until November 2019. By then, there should be a further increase in the biogenic content of the fuels used. Fuels with higher biogenic content include non-recyclable wood, paper and cardboard waste, as well as dry matter. These are intended to replace carbon dioxide-rich fuels, such as coal.