THE SEVENTH INTERNATIONAL DRYMIX MORTAR CONFERENCE, NUREMBERG/GERMANY
Drymix mortar community
meets for idmmc7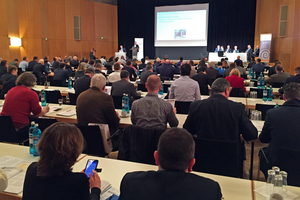 All ZKG International
Around 160 attendees were informed about the latest findings from the drymix mortar sector
All ZKG International
On 18.03.2019, the international drymix mortar community met for its biennial conference in Nuremberg/Germany. Organized by drymix.info, the one-day conference took place just before the European Coating Show. The seventh edition of the International Drymix Mortar Conference (idmmc7) focussed on current topics in the mortar industry.
J. Plank (TUM) and Ferdinand Leopolder (drymix.info) welcomed the around 160 international attendees to share knowledge and experience with their colleagues. Under the Technical Chairman J. Plank, Technical University of Munich (TUM), the technical committee consisting of R. Ålgars, A. Gerdes and F. Leopolder had put together an interesting programme with 16 papers. Some of these are also published in the accompanying Drymix Mortar Yearbook 2019.
M. Monaco, Mapei, reported in his paper "Cement quality influence in cementitious tile adhesive formulations" on tests with different cements. He described the influence of the Portland cement quality on the performance of tile adhesive. Monaco summarized his findings as follows: "The attempt to quantify the cement quality with an easily measurable mechanical parameter has been successful. A model has been successfully generated. With low-quality cements, the C1/C2 classification cannot be achieved by increasing the amount of binder: this increase only shows an effect with cements of decent quality."
In a product presentation, M. Greim, Schleibinger Geräte, presented a new standard: "Determination of shrinkage and swelling of screeds in EN 13892-9" and explained apparatus, procedure and normation. The EN 13892-9 is the first EN standard at all for measuring the early-age shrinkage of construction materials. The standard is mandatory for the EU and EFTA countries from April 2019.
Dr M. Schmid, Calucem, reported on "Re-engineered calcium aluminate cements for tile adhesives applications". Schmid summed up: "Cemfast shows the highest tensile adhesion strength after 3 h up until 28 d. CAC hydration contributes to strength development within first 24 h. OPC hydration contributes to strength development after 3 d up until 28d. Istra 40 reaches final strength after 7 d – Cemfast continuously increases strength."
T. Katagiri, Ube Industries, spoke about "A rapid and simple electrochemical testing method to evaluate chloride ion diffusion efficiency for high-durability polymer-modified cement mortars". He presented the cross-section repair method as a part of repair work. The method is widely used for fixing aged or damaged structures. Requirements for the repairing mortar are: high durability and strength, fluidity for pumping, good workability and controlled thermal expansion. The electro-migration method is a rapid way to evaluate the diffusion coefficient of chloride ion of the mortars.
A. Eisenreich, Imerys, addressed "Possibilities to mitigate cracking in building material with calcium aluminate technologies". Cracks in building materials significantly shorten the lifetime of a building. There are various possibilities to prevent cracking, one of these is calcium aluminate technology. Eisenreich concluded: Calcium aluminate technology gives variety to support different strategies and makes crack-free buildings possible.
"Infrastructure of the 21st century – challenges and changes" was the topic addressed by A. Gerdes, Karlsruhe Institute of Technology. For a sustainable infrastructure, new and integrative approaches are essential. New formats are necessary to ensure intensive communication between the various groups. Gerdes presented a process that comprises foresight, development and transfer, education and training as well as communication.
One topic in the afternoon session was 3D printing. E. Mandi, Laticrete, reported on "Research Development in 3D Construction Printing (3DCP): cured-on-demand with adhesion enhancement delivery system". Successful 3D printing is based on the starting values: material (printable, buildable, durable), delivery system (mixer, pump, 3D printer), (well-trained) personnel, environment and structural design. 3D printing mortars boast excellent mechanical properties and durability, and are cost competitive.
In a livestream from National Institute of Science and Technology, S. Jones spoke on "Towards the formulation of robust and sustainable cementitious binders for 3D additive construction by extrusion".
Previously, R. Zurbriggen, Nouryon, spoke on research findings on "Material science behind flexible cementitious waterproofing membranes". Waterproofing technologies protect buildings and infrastructures and must be able to withstand cracks. The results provide new insights into the failure mechanisms of strained membranes under dry and wet conditions.
"How to control the setting time of gypsum-based drymix mortar" was the subject discussed by M. Müller, Sika. He observed: "The successful control of gypsum set-times requires not only choosing a powerful set-accelerator/retarder, but also identifying and eliminating side-effects of and interactions with further drymix mortar constituents and other influencing variables."
To close the conference, F. Leopolder invited the attendees to "ScalingUp 3D – the Interdisciplinary Symposium on Printable Mortars". The new conference format will take place on 27.06.-28.06.2019 in Vienna/Austria. Planned is a field trip to Wopfing. There attendees will be able to tour Baumit's pilot plant for its 3D mortar printing system. In addition, two practical demonstrations of machine automation (m-tec) and curing monitoring (Ultratest) will be given. The sympo-sium will feature twelve scientific lectures centring on serial production of building (elements) using several types of drymix mortars.