BEUMER GROUP GMBH & CO. KG
New Beumer sales office supports customers with the retrofitting of systems from various suppliers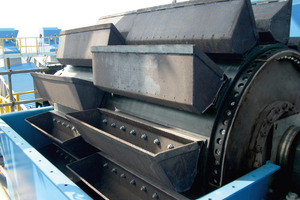 2 Beumer customer support replaces for example belt and buckets with Beumer-developed heavy duty technology components, so that cement manufacturers can meet any performance and technology requirements
All Beumer Group GmbH & Co. KG
1 From its sales office "West", Beumer customer support handles the retrofitting
and modernisation of bucket elevators from any supplier
All Beumer Group GmbH & Co. KG
The Beumer Group opened a new sales office in the Ruhr area of Germany to support its customers with an even more comprehensive range of services. From this sales office "West", Beumer Customer Support will handle worldwide retrofitting and modernisation projects, for example on currently operating conveying systems like bucket elevators and clinker conveyors, including those from other suppliers. The goal is to cooperate closely with the headquarters in Beckum and provide everything from one source, from receiving a query, to technical dimensioning and on-site installation. With only one contact, the operator can be sure of high system availability.
More than 1000 employees worldwide now work for this business segment. They take care of the customer, starting with the first project discussion, through to the time when the system is in operation.
Customer Support offers around-the-clock telephone support every day of the year worldwide. The technicians perform remote analyses, indicate corrective measures and offer quick and reliable solutions to correct malfunctions. Beumer Customer Support also ensures that the machines are always up-to-date.
As all systems used by the customer need to be complementary, Customer Support also takes care of retrofitting the mechanical parts and the control technology produced by third-party manufacturers, in addition to the continuous development of the Beumer products.
Modernisation pays off
An African cement manufacturer suffered recurring production losses due to the malfunctioning belt of a 60 m high bucket elevator from a different manufacturer used for feeding a silo. This is a typical problem: The system had to be stopped repeatedly for the workers to correct the error. In the long run, this needed to be corrected.
In this case, the modernisation of the plant was recommended. The Beumer experts replaced the belt and the buckets with heavy duty components developed by the Beumer Group. This solution offers buckets that are mounted firmly to the back of the belt by segments and bolts. Belts with wire-free zones are used for the HD bucket elevators just as with all Beumer belt bucket elevators. The buckets can be fastened to the belt without damaging the steel wires or even cutting them. The traction forces of the bucket elevator belt are maintained throughout. The bucket shape also allows for smoother running and therefore less noise generation. The drive and return pulleys were also exchanged. The new conveyor belts are resistant to mechanical wear and tear and allow conveying of large grain sizes and taking up high tensile loads. This helps the cement manufacturer to increase the availability of the bucket elevator, reduce energy consumption and extend service life. This solution, instead of simply replacing the belt, makes the company more competitive in the long run.