NATIONAL COUNCIL FOR CEMENT AND BUILDING MATERIALS (NCCBM)
Phase quantification of Indian industrial clinkers containing minor oxides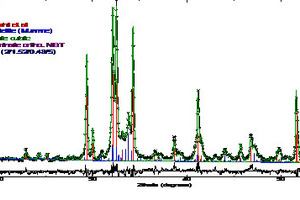 All authors
1 Rietveld refined pattern along with difference line (bottom line) and Bragg lines of the phases
All authors
Minor oxides in kiln feed influence the kinetics of clinker formation, mineralogical composition, polymorphism of clinker phases and other properties of clinker. Investigations on the phase quantification of industrial clinker samples containing minor oxides are presented in this paper. A comparative evaluation of different methods for quantification of clinker mineral phases was made. Typical industrial clinker samples were subjected to XRD analysis for qualitative and quantitative mineralogy. Distribution of minor oxides in the clinker phases was investigated by SEM-EDXA. The Bogue and Taylor methods were employed to calculate the phase contents of clinker samples and the values were compared with the results obtained from experimental technique.
1 Introduction
Increasing concern regarding Green House Gas (GHG) emissions combined with economical benefits lead the cement manufacturing sector, one of the energy intense sectors, to use various industrial waste materials and by-products. Assimilation of unconventional minor oxides, from different industrial waste streams, in clinker phases significantly affects the properties of cement. Presence of low concentrations of certain elements may influence the clinker phases to a large extent resulting in unforeseeable changes in the performance characteristics of cement. 
Chemical composition of...