EGYPT
Two complete coal mills for ­Amreyah ­Cement Company (AMCC)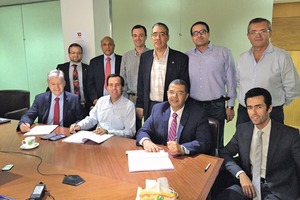 Christian Pfeiffer Maschinenfabrik
Signing the contract for two turnkey coal mills at Amreyah Cement Company in Alexandria, Egypt. The contracts were signed by (left to right, sitting): Erich Pichlmaier (Managing Director CPB), Matias Cardarelli (Legal & Administrative Director AMCC), Mohamed El Daghashy (Managing Director AMCC)
Christian Pfeiffer Maschinenfabrik
The Christian Pfeiffer Maschinenfabrik from Beckum/Germany signed a contract for the delivery and construction of two complete coal mills on 03.06.2015 at the head offices of the Amreyah Cement Company, a member of InterCement, in Alexandria, Egypt. The contract will be implemented as a turnkey project, which means that Christian Pfeiffer Beckum (CPB) is responsible for the engineering, delivering all equipment and organising the construction work in Egypt.
Amreyah Cement Company currently powers its three clinker lines with oil, and wants to switch to coal and petcoke, which are easier and less costly to source. Christian Pfeiffer's scope of delivery includes 2 identical horizontal ball mills with a diameter of 3.4 m and an effective grinding length of 6.75 m, and an integrated drying chamber 3 m in length, each equipped with a high-efficiency DSL-K 65-type separator. In addition to this, CPB is delivering all raw material handling equipment, the finished product silos, the dosing and conveyor units and the new burners for the existing clinker lines, the electrical systems, safety equipment and the steel and solid structures. The drying chambers of both mills are equipped with special lifting linings developed by CPB, while the grinding compartments themselves are fitted with a CPB classifying lining to guarantee effective grinding of the material. The mills comply with the latest ATEX directives to avoid all risks of explosion. Both ball mills are rated for outputs of 35 t of coal per hour.
The short implementation phase is a particular challenge in this project. Construction is scheduled to start in summer 2015, and the plant is to be completed and accepted just one year later.