WIG WIETERSDORFER HOLDING GMBH
Wietersdorfer invests € 75 million per year in corporate development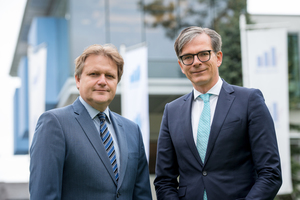 All WIG Holding
1 The two Managing Directors Hannes Gailer and Michael Junghans focus the Wietersdorfer Group on sustainability and digitalization (f.l.t.r)
All WIG Holding
In 2020, the Wietersdorfer Group generated global sales of € 720 million. This corresponds to an increase of 1.9% compared to the previous year. For its strategic further development, the group will invest around € 75 million in each of the next three years in long-term corporate development, digitalization and sustainable business. By 2035, the Group and its five business units aim to achieve largely climate-neutral production. The planned investment push is made possible by positive corporate development in recent years. "It has become apparent that the diversification of the group and the global expansion of business activities in a prudent manner are the key stabilizing factors for our group. They enable positive further development of the company not only during the Corona pandemic, but also in the long term. Our focus here is clearly on sustainable business," explain the two Wietersdorfer Managing Directors Michael Junghans and Hannes Gailer.
Clear political framework conditions are urgently needed
Over the next three years (2021 to 2023), the Wietersdorfer Group will invest around € 75 million annually worldwide in the strategic development of its five business segments (cement & concrete, lime, industrial minerals, GRP pipe systems and thermoplastic pipe systems). "We are determined to play our part in making the transition to a climate-neutral industry. However, this urgently requires further concretization of the political goals so that the investments can be made with sufficient planning certainty," Junghans said.
Politicians are now called upon not only to define targets for the various sectors, but also to take measures that maintain a global level playing field and support steering effects with an efficient subsidy system. Only in this way can European industry maintain its performance in the future with the defined climate targets and succeed in the vision of a climate-neutral Europe by 2050.
Internationalization
From its origins in Austria, the Wietersdorfer Group has developed into an internationally active company. In the meantime, business activities extend to 110 countries with 34 production sites. The successful internationalization is also reflected in the past business year. The Group generated the largest sales growth of 7.4% outside Europe. "Not only the diversification of the company, but also the steady expansion of our business activities beyond the borders of Europe put the group on a solid and successful footing," says Gailer. Worldwide, the company currently employs 3145 people, 666 of them in Austria.