THYSSENKRUPP INDUSTRIAL SOLUTIONS
thyssenkrupp wins major contract to build one of the largest ­cement plants in Saudi Arabia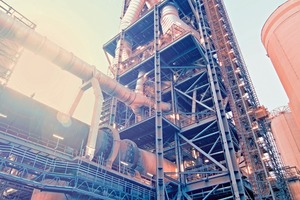 All thyssenkrupp Industrial Solutions AG
1 The preheater and the rotary kiln of an operating 10 000 t/d cement production line of the Yamama Saudi Cement Company, which was built by thyssenkrupp on a turnkey basis
All thyssenkrupp Industrial Solutions AG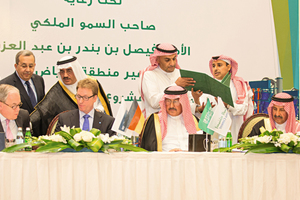 2 Signing the largest cement contract ever secured by thyssenkrupp: (f.l.t.r) Dr. Hans Christoph Atzpodien, Member of the Executive Board of the Industrial Solutions business area, Jens Michael Wegmann, CEO and Chairman of the Executive Board of the Industrial Solutions business area, H.H. Prince Turki Bin Mohammad Bin Abdulaziz Bin Turki, Chairman of the Board Yamama and H.H. Prince Sultan Bin Mohammad Bin Saud Al-Kabeer, Vice President and Managing Director Yamama
thyssenkrupp has won a contract from Yamama Saudi Cement Company, one of Saudi Arabia's biggest cement producers, to build two turnkey cement clinker production lines. The two lines with an overall capacity of 20 000 t/d cement will be built at a new site around 80 km east of the capital Riyadh. The value of the contract is in the higher three-digit million € range. It is the largest cement contract ever secured by thyssenkrupp.
Yamama Saudi Cement and thyssenkrupp have been working together since the 1960s when the company placed an order for an initial 300 t/d rotary kiln. Six more, ever bigger cement production lines were added in the years that followed.
thyssenkrupp Industrial Solutions, the engineering and construction arm of the thyssenkrupp Group, is delivering Engineering, Procurement and Construction (EPC) for the lump sum turnkey cement plant including the supply of all the components for the new lines, from raw material preparation to clinker manufacture to cement loading, including quality control. Both lines are scheduled to start operation in 2018.
The main components include two mobile primary crushers for limestone (each 1800 t/h throughput), three crushers for additives (each 500 t/h), two crushers for correctives (each 100 t/h) as well as two circular blending beds for limestone, each with a capacity of 80 000 t and various additive storage facilities. Four Quadropol QMR2 roller mills with a throughput of 425 t/h and two 35 000 t capacity homogenizing silos will be used to grind and store the raw material.
The kiln lines comprise 6-stage and 2-string preheaters with Prepol AS-MSC calciner, rotary kilns with Polflame-VN clinkering zone burners, and Polytrack clinker coolers. The clinker will be stored in three 10 000 t capacity clinker silos and two 100 000 t capacity clinker storage facilities. Four combi-grinding units consisting of Polycom high-pressure grinding rolls, ball mills and Sepol separators as well as downstream cement coolers will each produce 300 t of cement per hour.
The cement will be stored in six cement silos each with a capacity of up to 25 000 t. The line will also feature six cement packing and loading stations. Quality control and monitoring will be handled by a Polcid process control system and Polab laboratory automation system.
industrial-solutions.com