W&P ZEMENT GMBH
w&p Zement donates robot to HTL Klagenfurt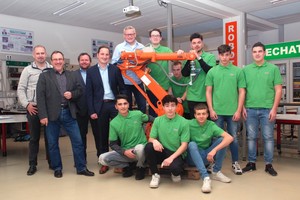 w&p Zement GmbH
Florian Salzer, Operations Manager of the Wietersdorf cement plant, and Christian Schellander, Head of the Electrical Engineering Department, (both wearing a jacket & blue shirt) handed over an industrial robot to the mechatronics department of HTL1 Klagenfurt on behalf of w&p Zement GmbH
w&p Zement GmbH
Representatives of w&p Zement GmbH recently handed over a fully functional industrial robot to the mechatronics department of the higher technical college in Klagenfurt/Austria (HTL Klagenfurt). In future, it will be available to the students as a high-tech teaching object with which the programming of various motion-sequences as well as the control and troubleshooting on a robot arm of this size can be carried out in school practice for the first time. Thanks to the expansion of the technical courses at HTL Klagenfurt – made possible by w&p Zement, a part of the Alpacem company group – the students benefit from additional practical expertise. Against the background of the rise of Industry 4.0, this is becoming increasingly important.
"We are pleased that the robot will be assigned an important task after it has been used in the Wietersdorf cement plant. The opportunity for practical use of high-tech equipment in schools increases the quality of the technical courses and thus lays the foundation for further training for tomorrow's top specialists", said Florian Salzer, Operations Manager in Wietersdorf and himself a graduate of HTL Klagenfurt in the area of mechanical engineering.
Robot was replaced by fully automated cement-laboratory Polab
The six-axis industrial robot manufactured by global technology leader "ABB Robotics" with a range of 1.55 m and a payload of 10 kg was integrated into the w&p Zement plant in Wietersdorf in 2005 as part of an initial automation-wave. It was used in the cement laboratory to support the process engineers in the area of ​​sample-taking and thus ensured that 40000 cement- and raw-material-analyses were carried out each year. Due to the low weight of the samples, the industrial robot is still in a technically perfect condition 14 years after its purchase and is therefore ideally suited for training the next generation of technicians. In the course of the last wave of automation in the Wietersdorf cement plant, the robot arm was finally retired. A fully automated cement-laboratory Polab has been operating in its place since October 2019. With a 75 % higher analysis-frequency, the new laboratory increases the constancy and quality of Wietersdorfer cements.