New laser vibrometer for non-contact vibration measurement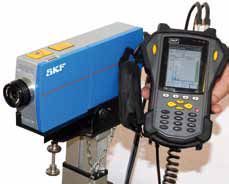 Pictures: SKF
Together with the SKF Microlog series, the new MSL-7000 laser vibrometer also permits mobile condition monitoring in measuring situations where many conventional sensors fail

Pictures: SKF
The new non-contact SKF laser vibro-meter, type MSL-7000, provides engineers with a more effective means of machine and plant condition monitoring. It is also of benefit in the quality inspection of fans and blowers, electric motors, pumps, household appliances and numerous other products. The MSL-7000 vibrometer is a complete digital unit for non-contact vibration measurement. It is an innovative, flexible and robust tool, allowing service technicians to record vibrations in a very broad range of applications.
The MSL-7000 was developed to meet the requirements of a growing number of clients who need to perform noise tests – particularly with regard to noise-critical products such as fans and blowers, ­electric motors, pumps and household appliances. The unit, which measures acoustic vibrations between 0.2 Hertz (very slow rotations) and 22 kHz, can be easily integrated into testing devices and existing monitoring systems. Used together with the SKF Microlog series, the MSL-7000 is also suitable for mobile condition monitoring. In this combination, it can be employed for non-contact measurements that were previously impossible – for instance on hot surfaces or through glass. Fundamentally, it facilitates measurements in locations that are difficult to reach.
"The SKF laser vibrometer helps clients who need an effective and flexible means of vibration measurement. For example, it is ideal for use in modern end-of-line testing devices or in condition monitoring situations that are difficult or impossible to master with conventional sensors", explains Werner Palmetshofer, Manager of the Condition Monitoring Center in Steyr/Austria.
The robust and compact design of the vibrometer simplifies the installation and operation. Due to the fact that the MSL-7000 performs non-contact measurements, the unit suffers far less wear, making it significantly more efficient and cost-effective.
The MSL-7000 is suitable for quality assurance functions in production lines, as well as for mobile condition monitoring, for instance in the portable vibration measurement and data acquisition devices of the SKF Microlog family. Clients can therefore use the device for a very broad range of applications. SKF also offers the unit as a complete package with the designation MSL-7000 C. This can be used together with SKF FPM software and a laptop.
www.skf.com/lasersensor