SIEMENS AG
Bigger and better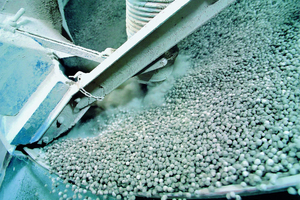 All Siemens AG/www.siemens.com/press
Components from Siemens, including a new Simotics motor, help the customer produce cement more efficiently and achieve higher production rates. In addition, safety at the plant has been improved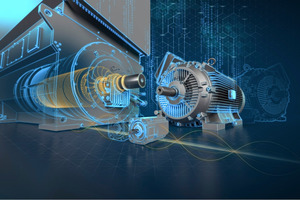 Thanks to good planning and the right selection of equipment, the lead time of just 32 weeks for the modernization project was kept
An extensive modernization project has allowed a cement company in Texas to increase production, energy efficiency and availability – and improve plant safety. A project highlight: the introduction of the biggest UL-certified induction motor ever to be produced in the United States
Operators of the cement production facility had clear goals for an extensive modernization project: they wanted to attain higher production rates, as well as increase availability and energy efficiency. And at the same time, the modernized plant would have to improve plant safety. Most of all, it was important that the complex project be in good hands. Thus Siemens and thyssenkrupp Industrial Solutions (TKIS) – two well-known companies in the field of industrial drive technology and power distribution – were chosen to carry out the modernization in 2017.
The Siemens equipment implemented in the project included a liquid immersed isolation transformer that uses biodegradable FR3, an environmentally friendlier alternative to mineral oil; 24-pulse Sinamics GM150 frequency converters with CSA certification; an air-cooled IP55 totally enclosed air-to-air cooler (TEAAC); a variable-speed 2000 HP Simotics induction motor for the mill; and a power distribution center (PDC) that was tested prior to installation in order to reduce the time needed for commissioning.
Breaking a US record
The new Simotics motor, which replaced the previous synchronous model, is noteworthy for a number of reasons: For starters, it is the largest UL-certified induction motor ever produced in the United States. It goes without a DC (direct current) circuit in the motor, enables rapid diagnostics and troubleshooting, and offers capability for remote support. What is more, its variable speed control allows the plant operator to directly control the grinding process by adjusting the speed accordingly. Because the motor has fewer spare and wear parts than the previous drive, it requires exceptionally little maintenance. All of this together helps increase the plant's availability.
Thanks to good planning and the right selection of equipment, the lead time of just 32 weeks for the modernization project was kept. And right in line with the customer's wishes, the plant has been operating more efficiently and safely, and with higher productivity and availability.
Cement for Texas and beyond
This cement customer's production plants stretch across the entire south and southeast of Texas. Presently the company manufactures and markets four different types of construction cement, three API Spec Oil Well cements (Class A, Class C and Class H), and masonry cements for sale to its Texas and out-of-state customers. The company's objective to be the highest-quality, low-cost producer of cement products in Texas is matched by its desire to maintain a safe working environment for its many employees and operate according to today's environmental requirements.