Südbayerisches Portland-Zementwerk Gebr. Wiesböck & Co. GmbH
Major plant modernization project successfully
concluded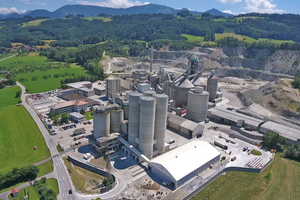 RFO, Günter Gareis
1 In front, the new packing hall and the four loading-area silo towers
RFO, Günter Gareis
Zementwerk Rohrdorf
2 A new cement mill with a mill tube measuring 4.5 m in diameter and just above 14 m in length was also installed
Zementwerk Rohrdorf
The Rohrdorf Cement Plant in Bavaria just celebrated the successful conclusion of a big, all-told-12-year modernization project, i.e., the completion of its last investment phase, which alone took roughly two years' time. The company invested a total of some € 150 million to ensure long-term security of producion at this regional production location.
The core component of the most recently completed measures totaling some € 40 million in cost is the cement mill, which improves both the plant's productivity and its energy efficiency. Four 62-m high cement silos and a new packing hall also were installed. In addition, an internal transport concept was implemented along with noise abatement measures for reducing sound emissions.
CEM2020
In place of the plant's two relatively small, rather elderly systems, the new cement mill was given a mill pipe with a diameter of 4.6 m and a length of just over 14 m. Since the mill requires no oil-fueled auxiliary firing, that fact alone saves 150 000 l (the equivalent of 1.5 million kWh) of fossil fuel per year. The second stage of the large-scale project consisted of erecting four cement silos with a combined storage capacity of 24 000 t, plus four loading lanes per silo to help accelerate the cement loading process. Now, it takes only 12 minutes to simultaneously fill as many as four trucks per silo.
The plant has been investing heavily ever since 2006: In a project entitled "CEM2020", The Rohrdorf Group has been working to ensure the plant's future by raising it to the highest level in terms of competitiveness and ecotechnology. The first step, back in 2006, encompassed a raw mill with filtration equipment. Since 2011, a sophisticated catalytic process coupled with an SCR-DeNOx system has been converting the off-gas constituents nitrogen oxide and ammonia into plain nitrogen and water vapor. That made the company a pioneer within the branch. Also, a modern, energy efficient pendulum-grate cooler installed in 2011 is now saving 10 000 t of bituminous coal per year (along with a corresponding 28 000 t of CO2). Then, in 2012, Rohrdorf installed a waste-to-energy plant with which to generate one-third of its own electric power requirement, making it one of the most environmentally friendly and energy efficient cement plants in the world.
Indeed, environmental protection enjoys top priority among the Rohrdorf cement plant's stakeholders and manage­ment. Thus, the 12-year moder­nization project not only placed economic and technical goals at the top of the agenda, but also a step-by-step reduction in emissions. The installation of new sys­tems and equipment effectively reduced the plant's annual CO2 emissions by 259 500 t. That exceeds a quarter of the original level of CO2 emissions at the onset of the project in 2006. In addition, the use of alternative raw materials has enabled the consumption of 12 000 t less rough rock per annum.
"As far as reducing emissions is concerned," reflects Mike Edelmann, Rohrdorf Group Managing Director, "the CEM2020 project put us right up there in the Champions League."
The Südbayerisches Portland-Ze­ment­werk Gebr. Wiesböck & Co. GmbH, as the nearly 90 year-old company's official name goes, not only makes and sells cement, but is also active in the areas of sand and gravel, ready-mix concrete, prefabricated building elements and concrete products and employs a staff of 1800 at 130 regional locations in Bavaria, Austria and Italy, all under the brand name Rohrdorfer Gruppe.