FLEXCO EUROPE GMBH | bauma 2019 | B2.251
Eliminating faults and avoiding problems – in the long term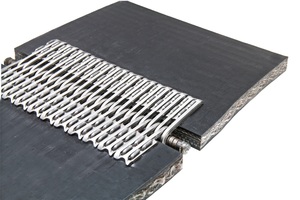 All Flexco
The mechanical belt fasteners of the Flexco XP series were specially developed for use in mining and underground operations

All Flexco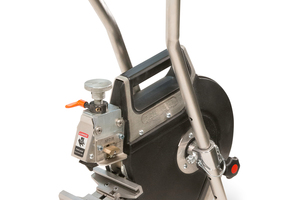 The manual press enables the production of XP belt fasteners which possess a consistently high degree of tensile strength and create a uniform distribution of load on the sides of the belt
Flexco Europe GmbH present forward-looking solutions that enable operators to significantly increase the service life of these components – and the productivity of their plants as a result. These components will reduce plant operators' costs for maintenance, for new conveyor belts and for assembly & installation.
Mechanical belt fasteners Flexco XP
The mechanical belt fasteners of the Flexco XP series have been specially developed for use in mining and underground operations. They're suitable for solid woven belts up to a strength of 1750 N/mm. The flat design of the belt fasteners improves the approach for cleaning systems and reduces contact with skirt elements and return rollers, so the system wears more slowly, and the joints hold for considerably longer than those of comparative competitor systems. Service employees can safely install the components using either a hydraulic or a manual assembly device. This press is easy to handle, and its design makes it particularly ergonomic. The shape also ensures a greater leverage effect, which significantly reduces the user's workload. Visitors can see this demonstrated at the Flexco outdoor booth and even produce samples themselves.
EZP1 precleaner system
The series is easy to install, quick to service and can be thoroughly cleaned. The range of four different polyurethane blades has now been expanded to five. Since extremely high temperatures can often prevail, Flexco also offers a bright yellow version with high-temperature scraper blades, for example, which allow continuous operation up to 135°C and peaks up to 163°C. The newcomer to the range is the deep red ultra-high temperature component, which performs very reliably even at 222°C. Belts may be exposed to such high temperatures when transporting coal, clinker, cement, etc. – but regardless of the use to which they are put, Flexco scraper blades are characterized by their high degree of durability, so they do not have to be changed often – and that significantly reduces plant operators' downtimes and material costs.
PTEZ belt centering station
This station is suitable for light to heavy applications and for reversible belts up to 2100 mm wide. Conveyor system operators can also use the PTEZ for belts with worn or damaged edges – and thanks to the simple design of brackets and components, the station is quick and easy to assemble. One special feature of the PTEZ is the roller, which is polyurethane-coated as standard. Another newcomer to our PTEZ product range is an economical version with rubber instead of polyurethane.
TUG HD belt clamp
When a conveyor belt is stopped for maintenance, its own weight can create problems due to the uneven distribution of tension. To ensure that a belt can be safely cut and securely spliced by service technicians, the tension in the area under repair should be spread over the whole belt width – and this is exactly why Flexco developed the belt clamp. Suitable for a wide range of belt materials and types, the TUG HD meets the high safety standards of the industry – and the clamp can be used to either tension the belt or pull it to fix it firmly.