FLEXCO EUROPE GMBH⇥HALL/STAND B2.251 AND COURTYARD/STAND 12B
Flexco simplifies maintenance and repair with ­conveyor belt connector and cleaning systems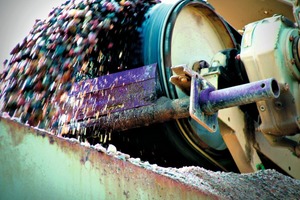 All Flexco Europe GmbH
1 Belt cleaners keep material from sticking to the belt after it leaves the transfer point
All Flexco Europe GmbH
The innovative developments include the FMS secondary cleaner, which is suitable for medium-duty applications. While a pre-cleaner removes the coarse material, the FMS provides fine cleaning. This increases the cleaning effect of the conveyor cleaner and in many cases can remove more than 90 % of the carry back. As the blades of the FMS secondary cleaner are made of coated carbide, it is suitable for mining applications with maximum belt speeds of 5 m/s and for belt widths of 450 to 1800 mm. A tensioning system ensures that the blade makes optimum contact with the conveyor belt.
The belt centring systems detect when the belt is not running true and correct it. Flexco will be exhibiting the PT Pro Belt Trainer in this respect. When the belt wanders, the pivot and tilt movement always guides it back into the correct position. The belt centring device is suitable for reversible belts with belt speeds of up to 7 m/s. It is used in both damp and dry environments. The standard sizes in this range are suitable for belt widths of 450 to 2400 mm.
Flexco will be presenting the new PT Pro EZ belt centring station. Equipped in a similar way to the PT Pro Belt Trainer, it is suitable for light to medium-duty applications and for reversible belts with belt widths up to 1200 mm. Conveyor system operators can also use it on belts with worn or damaged edges. The station is very quick and easy to fit thanks to the simple design of brackets and components. The special feature of the PT Pro EZ is that the belt guide roller is poly-urethane-coated as a standard.
Impact beds slow down the material falling onto the conveyor; the EZIB range of impact beds will be presented at the exhibition. The user can easily specify and fit these thanks to the adjustable trough angle. The product range is equipped with standard components, which makes it both effective and affordable. The impact strips made from tough ultra-high-molecular-weight polyethy­lene (PE-UHMW) absorb the impact force of the falling material, while the outer protective strip, which is likewise made of (PE-UHMW), seals the loading zone. This system is suitable for light and medium-duty loads. Impact beds are now also available in lengths of 600 and 1200 mm. This solution enables users to significantly increase the life of their systems as they are subjected to considerably less load. Combined with Flexco sliding beds, they can be expanded to form complete loading zone systems.