DEUTSCHE BAUCHEMIE E.V. | GERMAN CONSTRUCTION CHEMISTRY INDUSTRY ASSOCIATION
Entire Executive Board remains in office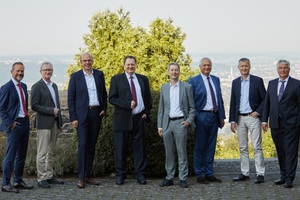 Deutsche Bauchemie
Executive Board of Deutsche Bauchemie 2021 (from left): Andreas Collignon, Joachim Straub, Dr. Clemens von Trott zu Solz, Prof. Dr. Josef Felixberger, Dr. Hubert Motzet, Andreas Wilbrand, Dr. Dieter Köster, Norbert Schröter, Dr. Christoph Hahner (missing from the photo are Dirk Sieverding, Johann Hafner, Alexander Gänsler and Dr.-Ing. Claus Michael Müller)
Deutsche Bauchemie
At the 73rd General Meeting of the German Construction Chemicals Association Industry on September 9, 2021, at Petersberg near Bonn, the delegates confirmed all board members in office. Dr. Christoph Hahner remains Chairman of the Board of the Frankfurt-based industry association with its current 133 member companies.
The executive committee of Deutsche Bauchemie thus includes for the next two years: Andreas Collignon (Wacker Chemie AG), Prof. Dr. Josef Felixberger (PCI Augsburg GmbH), Alexander Gänsler (StoCretec GmbH), Johann Hafner (Hermann Otto GmbH & Co. KG), Dr. Christoph Hahner (DAW SE), Dr. Dieter Köster (Köster Bauchemie AG), Dr. Hubert Motzet (ARDEX GmbH), Dr.- Ing. Claus-Michael Müller (MC-Bauchemie Müller GmbH & Co.), Dirk Sieverding (Remmers GmbH), Joachim Straub (Sika Deutschland GmbH). Dr. Clemens von Trott zu Solz (Triflex GmbH & Co. KG) and Andreas Wilbrand (Sopro Bauchemie GmbH).
Chief Executive Norbert Schröter and Dr. Christoph Hahner welcomed around 90 participants to the general meeting. The chairman of the board outlined numerous current association topics and the political framework conditions in his speech. "Problems with supply chains, material bottlenecks, the raw materials situation and price developments are having just as negative an impact on our sector and the entire construction industry as the excessive regulatory situation," said Dr. Hahner. Climate protection dominates the public discussion like no other topic, but can only be realized effectively with and not against the industry.
Two new Internet portals launched
In this context, Dr. Hahner referred to two new Internet portals that were launched at the members' meeting: https://wissen.deutsche-bauchemie.de provides access to all publications of the association with a search function for anyone interested. A separate website on Building Information Modeling (BIM) has been set up especially for member companies. The "Next Step" portal of Deutsche Bauchemie, the communication platform for universities, students and graduates in the field of civil engineering and construction chemistry, has also been revised. The association documents the importance of this field every two years by awarding the Science Medal. This time, the award went to Dr. Alexander Adrian Engbert for his doctoral thesis "Replacement of lithium carbonate as an accelerator for calcium aluminate cements: studies on the effect and elucidation of the mechanism of accelerating biopolymers" presented at the Technical University of Munich.
Lecture program with a challenging mix of topics
As is tradition, the general meeting was concluded by the lecture program, beginning with Stefan Becker, Head of Division at the German Federal Office for Information Security (BSI, Bonn), on the subject of cyber security. The expert strongly recommended the companies present to take preventive action against attacks by extortion software and offered extensive free support from his authority.
Dipl.-Phys. Michael Carus, Managing Director of the nova-Institut (Hürth), showed ways from fossil to renewable carbon and which possibilities arise from it for sustainable climate protection. His "Renewable Carbon Initiative (RCI)" provides the platform for companies to participate in the innovative process and to benefit from the extensive know-how available.
Prof. Dr. David Stadelmann (University of Bayreuth) presented a concept on the "economics of public opinion", which takes into account the ideas of "to be" and "to have" in changing forms and explains why more and more people today follow the motto "It is better to be cautious" than the phrase "You can speak your mind freely".
The 74th General Meeting of German Construction Chemistry is scheduled for June 23/24, 2022 in Bremerhaven.