CLAUDIUS PETERS TECHNOLOGIES GMBH, BUXTEHUDE/GERMANY (01.–02.10.2014)
Gypsum Open Days at the "Waterkant"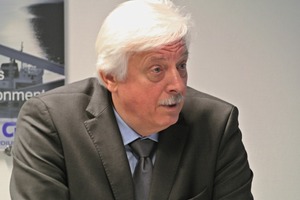 ZKG
1 Reiner Frühling, General Manager of Claudius Peters, extends a warm welcome to the international attendees
ZKG
In line with the tradition of the Open Days organized by Claudius Peters, the Gypsum Open Day 2014 took place at the headquarters in Buxtehude near Hamburg from 1st to 2nd October 2014. Interested clients and customers followed the invitation to share Claudius Peter's newest experiences on processing and handling of gypsum.
After getting together with a welcome beer at the Buxtehude Kulturforum already many topics were discussed and new contacts made, the following day was largely devoted to the focus on processing and handling of gypsum.
After the welcoming speech by ­Reiner Frühling, Managing Director of the Claudius Peters Group GmbH, Stephan Oehme, Sales and Technology Director, started with his first speech on latest development of gypsum improvement and calcining treatment and to updating Claudius Peter's recent structure and projects. Founded in 1906, today the Claudius Peters Group and its 12 representatives are successfully active in all important markets and have a revenue of 117 mio. € in 2013. The recent projects focus on gypsum calcining, improvement and pet coke grinding. Beside the current focus on gypsum, Mr. Oehme listed a wide range of additional targeted industries such as the alumina and light weight industry, fertilizer, cement, lime, iron and mineral industries and power plants. Then, he handed over to his colleagues Claus Wetzlar, Volker Göcke and Lars Röttger who emphasized the technical solutions for calcination and grinding of gypsum in HIC and HOM. The "Horizontal Impact Calciner" is a new technology for calcining up to 80 t/h of synthetic gypsum directly in a mill circuit and an integrated classifier. Downstream the produced plaster was cooled and homogenized in the "Homogenizer" for improvement and stabilization of fresh calcined gypsum. Finally, Bernd Lübbert brought the focus on to packing technology and ultrasonic welding whilst Thore Möller displayed the Fluidcon technology.
After the lunch break the participants had the opportunity to visit the work shop, the world's longest pneumatic transport (5 km) and the R&D center, where the packing module incl. ultrasonic welding, a testing mill and the Fluidcon installation respectively were to be admired.
Many questions were asked and the mode of operation of the individual machines was discussed very comprehensively. These were two days with a lot of current information and the chance to share experiences with people from all over the world. Those attendees coming to Germany for the first time also took the opportunity to visit Hamburg and other places.