BEUMER GROUP⇥HALL/STAND 1-627
High level of expertise in ­providing packaging lines from one ­single source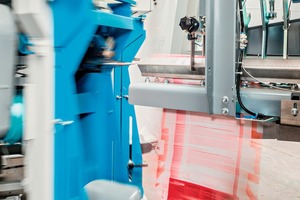 All Beumer Group GmbH & Co. KG
1 The bag placer applies the valve bag with precision on one of the filling spouts of the fillpac R
All Beumer Group GmbH & Co. KG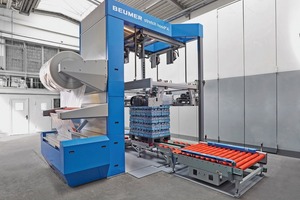 2 The easy, intuitive and reliable operation of the new stretch hood A is especially appealing to customers
Beumer Group will exhibit its high level of expertise as a single-source provider of filling, palletising and packaging technologies. Conveying systems will also be featured, backed by the system supplier's comprehensive customer support team.
Belt conveyors
The belt conveyors for the bulk material transport are able to negotiate curves and are designed either as open troughed belt conveyors or as closed pipe conveyors. Belt conveyors can be adapted optimally to the topography of the environment due to their ability to negotiate rough terrain, long distances and large differences in height. By overlapping narrow horizontal and vertical curves, belt conveyors fit seamlessly within existing terrain. Beumer Group will also provide information on belt bucket elevators and high-capacity belt bucket elevators for particularly large delivery rates and heights.
Packaging lines and bag tester
Beumer Group supplies and installs the packaging lines and adjusts them to the products of the customer. The fillpac R filling machine fills bulk material from the building materials into bags in an efficient and gentle way and with the required throughput. Beumer Group has now complemented the rotary filling machine with a bag placer and a ream magazine. This means that performance and efficiency can be further increased. The Beumer bag tester is a new addition to the product range: The testing device is easy to transport and enables users to exactly determine the venting capacity of any type of valve bag and therefore their suitability – ­including all paper and plastic layers, and glued areas.
Paletpac high-capacity palletiser and stretch hood
Beumer Group offers the paletpac high-capacity palletiser. Depending on the product requirements, it can be equipped with a clamp-type turning device or a twin-belt turning device. Complex palletising and de-palletising challenges ­can be achieved reliably and efficiently.
Compared to previous versions, the Beumer stretch hood A now offers higher throughput, gentle transport of the film in the system and requires 40 % less floor space.
Overall operation monitoring app
Beumer Group has developed the overall operation monitoring app, an application with which the customer's employees have all relevant indices of their packaging line displayed on their mobile devices at any time. The application shows the status quo of availability, performance and quality levels as well as the energy and compressed-air consumption. The program can be adapted to customer-specific requirements.