BEUMER GROUP GMBH & CO. KG
Solution-oriented all down the line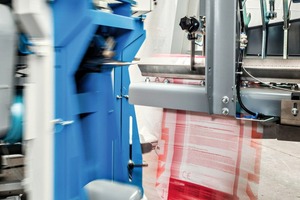 All Beumer Group GmbH & Co. KG
1 The bag placer applies the valve bag with precision to one of the filling spouts of the Beumer fillpac R
All Beumer Group GmbH & Co. KG
At the interpack in Düsseldorf/Germany from 04.05.-10.05.2017, Beumer Group will present its expertise as a solution provider for integrated packaging and intralogistics systems (Hall 12, booth E37). In addition to palletising and packaging systems, Beumer Group also provides tailor-made components for material flows specific to different industries. Customers can get everything from one hand, including the software and comprehensive customer support.
As a single-source provider, Beumer Group supplies and installs the packaging lines and adjusts them individually to the products of the customer. The new Beumer fillpac R filling machine fills bulk material from the building materials industry and other industrial pulverized goods into bags in an efficient and gentle way and with the required throughput. It can fill very fine to very coarse materials into different bag formats and types, such as valve bottom bags and flat valve bags. ­Beumer Group has now complemented the rotary filling machine with a bag placer and a ream magazine. This means that performance and efficiency can be further increased. Due to its modular design, the Beumer fillpac R can be easily integrated into and adjusted with existing packaging lines.
The bags are then stacked on pallets. For this, Beumer Group offers the ­Beumer paletpac high-capacity pall­et-iser. It is incorporated into high-performance packaging lines to process even sensitive and valuable products as well as products with special flow characteristics in a gentle and efficient manner. Depending on the product requirements, it can be equipped with a clamp-type turning device or a twin-belt turning device. Beumer offers the Beumer robotpac, a space-saving articulated robot, for palletising cartons, boxes, canisters or trays. This fully automatic articulated robot is able to solve even complex palletising and de-palletising challenges reliably and efficiently. Beumer has developed fully automatic gripping systems that are easily exchangeable and suitable for each item to be packed.
During transport, the palletised ­products must be secured on the pallet and protected against dust, rain or ­other atmospheric influences. The Beumer stretch hood high capacity stretch hood system can be used for this. The Beumer stretch hood A is the result of the intralogistics specialist completely redesigning its tried-and-trusted packaging system. Compared to previous versions this machine series now offers higher throughput, gentle transport of the film in the system and requires 40 % less floor space. In addition, the systems supplier can now provide the system with a newly developed easy opening hood: this worldwide innovation allows employees in retail stores and logistics centres to remove the film quickly and easily when unpacking or repacking the goods, without the use of any cutting tools.
Through its palletising and packaging systems division, Beumer Group is also implementing applications that are specific to the industry and that allow the customer to expand the packaging lines into entire intralogistics systems. The lines are equipped with standardised components such as conveying el-ements or vehicle-based systems, various solutions for handling and manipulators such as robots, buffer and storage modules along with the suitable software. The customer gets the entire intralo­gistics system from one source with Beumer as a reliable and competent partner to ­contact.
//www.beumergroup.com" target="_blank" >www.beumergroup.com:www.beumergroup.com