MVW LECHTENBERG PROJEKTENTWICKLUNGS- UND BETEILIGUNGSGESELLSCHAFT MBH
MVW Lechtenberg & Partner builds first refuse-derived fuel production plant in Saudi Arabia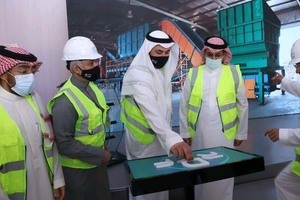 2 Inauguration of the material recycling and RDF production facility by SIRC in the presence of the President of the National Waste Management Center HE Dr. AbdullahAl Sibai, the CEO of SIRC and the member of the Managing Board of Green Environmental Solutions Company (GESCo), Majed Al Osailan
The Duisburg-based company MVW Lechtenberg & Partner has been active in the Kingdom of Saudi Arabia since 2010. In various consulting projects, among others, within the framework of the "Mandatory Efficiency Program" of the Ministry of Environment, which provides assistance to the local cement industry in energy-efficient cement production. For the "Executive Committee for Energy and Water Price Reform Governance" of the Minister of Energy, a comprehensive "Fuel Switch" study was prepared by MVW Lechtenberg in order to calculate the potential for renewable energies and the resulting savings potential for oil for all energy-intensive industries – including the petrochemical industry, steel and aluminum industry, but also the cement industry.
Within the scope of the studies, MVW Lechtenberg & Partner calculated a possible savings potential of about 38.57 million bbl of fuel oil, among others through the use of up to about 4.7 million t of alternative waste-derived fuels. The cement industry in Saudi Arabia has a current production capacity of around 85 million t of cement clinker, while actual production last year was 54 million t.
MVW Lechtenberg already planned and supervised the construction of a pilot plant for the production and use of alternative fuels for the City Cement Company in Marat (about 130 km from Riyadh) at the end of 2020. In March 2022, another plant was planned and commissioned by MVW Lechtenberg & Partner. This time inaugurated as a joint venture between "Green Environmental Solutions" as a subsidiary of City Cement Company and "Saudi Investment Recycling Company (SIRC)", the state-owned waste management company. MVW Lechtenberg & Partner has now registered a subsidiary in Riyadh.