MONDI
More than one billion cement bags made
from Mondi sack kraft paper for Constantia Afripack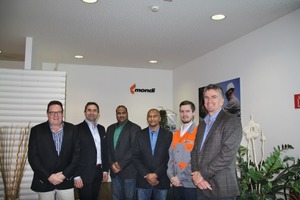 Mondi
1 Customer visit at Mondi Frantschach, Austria: Arnold Vermaak, Constantia Afripack; Gottfried Joham, Mondi Frantschach and Mondi Sack Kraft Paper; Nicholas John, Constantia Afripack; Kervin Ali, PPC; Reinhard Kainz, Mondi; Anthony Higgins, Sack Kraft Paper Mondi (from left to right)
Mondi
The story of Mondi, the international packaging and paper group, and the South African packaging and bags producer Constantia Afripack spans more than 40 years. In the sack kraft paper business, the two companies have been doing business since 1993. That is when Constantia Afripack took the strategic decision to put its supply chain management on a broader basis by opening up a supply alternative to local sack kraft paper production.
"In 1993 the South African market was emerging and fast developing, therefore, we decided to go new ways in terms of supply chain management to follow the market demand for high-quality cement bags and to increase production security," explains Arnold Vermaak, Chairman of Constantia Afripack. With a supply potential of four mills, seven paper machines producing a full range of high-quality sack kraft paper, and a well-established international logistics chain, Mondi Sack Kraft Paper has since become Constantia Afripack's principal supplier.
Partnering with customers to develop innovative solutions
Mondi Sack Kraft Paper also supported Constantia Afripack with setting up a new supply chain management system, which coordinates administrative functions more efficiently, and facilitates the fast and flexible exchange of data and planning information between the companies. Apart from their pioneering approach to the supply chain, Mondi Sack Kraft Paper and Constantia Afripack also initiated innovation in the production and use of cement bags in the South African market. "Partnering up with Mondi in the sack kraft paper business proved to be the cornerstone of further innovation within our own company. The paper grades' performance and quality are great, which has enabled us to further raise the speed and consistency of production. The tangible benefits include better runnability and reduced waste. Together with Mondi Sack Kraft Paper, we took innovation a step further when we migrated from three-ply to two-ply cement bag production, which triggered additional material and cost economies without compromising quality or strength," comments Vermaak.
From three plies to two – lighter weight for improved economy
The year 2011 brought a milestone in the history of the partnership between Mondi Sack Kraft Paper and Constantia Afripack with the adoption of the two-ply high porous cement bag by the South African cement industry.
According to Vermaak, "Mondi Sack Kraft Paper brought a lot of expertise in two-ply high-porosity bags from Europe and shared this knowledge with us at Constantia Afripack. Most important, they had Advantage Select. We were keen to lead this innovation in South Africa and to make the move to two-ply packaging for cement, and Mondi Sack Kraft Paper helped us on every step of the journey. Advantage Select sack kraft paper allowed us to use only two plies and dispense with perforation, thus significantly reducing paper consumption and dust on our clients' premises – to mention just two of the benefits. The bag is lighter and easier to produce, yet the paper and bag are stronger than the previous three-ply construction. The bags are better able to withstand the filling operation at our clients' cement mills, as well as the sometimes rough transportation and handling conditions that prevail in the local building industry," explains Vermaak. "Together with Mondi Sack Kraft Paper and our clients, we are constantly examining opportunities for further product improvements and innovations that can benefit the end user."