Natro Tech – filling expertise in action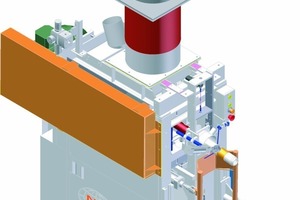 1
Natro Tech's impeller packer 70BE/SI has a capacity of 400 bags per hour (25 kg cement bags) and is suitable for a range of different filling products with a bulk density from 0,1 to 1,6 g/cm
3
The Austrian company Mondi Industrial Bags is well known for its industrial bags. But it is less known that Mondi's expertise in filling powdery goods does not stop at the bag. With its filling equipment producer Natro Tech, the Vienna based company has bag filling experts among its ranks.
Founded in 1925, Natro Tech has filling expertise of nearly 90 years. In this way, the intense collaboration with customers in the building materials industry throughout the world represents a unique asset. "We like to summarise the fruitful duality between the two Mondi entities as: filling equipment produced by bags experts and bags produced by filling equipment experts. This knowledge sharing allows us to offer high-performance yet cost-efficient industrial bag solutions optimised to the customer's filling processes", states Thomas Ott, COO of Mondi Industrial Bags.
Natro Tech belongs to the Mondi Industrial Bags business segment and designs and builds filling equipment for industrial bags – mainly valve bags but also open mouth and FIBCs (flexible intermediate bulk containers). The company has developed specialised expertise in the building materials industry notably for dry mortar filling equipment and related service. Its portfolio encompasses a large range of filling equipment, most notably air packers and impeller packers, as well as related machinery such as bag applicators, sealing systems, weighing systems and palletizers.
One of these special units is the Easy Pack. It was especially developed and, due to its flexible application at variable  sites with relatively small filling needs, is particularly suitable for 5 to 10 kg bags, so-called Mini Bags. The filling capacity is 200 bags per hour. With a light weight, small dimensions and fast installation time, it is possible to dismount the unit quickly and easily and transfer it from one site to another. There, it can be installed within a day.
The filling of sacks at different sites within a short period of time without having to invest in filling equipment at each site makes the Easy Pack an ideal solution for flexible, independent filling needs.