REMBE GMBH SAFETY + CONTROL⇥HALL/STAND 3-207
The multi-talented Q-Rohr and Q-Box – new applications for flameless explosion venting in the bulk materials industry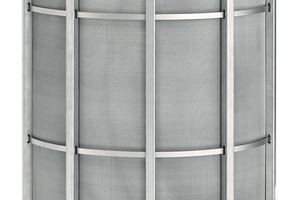 All Rembe GmbH Safety + Control
1 Q-Rohr: offering a wide range of applications in the bulk materials industry, including sound insulation – integrated into standard explosion safety equipment it is also popular with residents in neighbourhoods adjacent to industrial plants
All Rembe GmbH Safety + Control
Rembe continues to develop and refine Q-Rohr and Q-Box, the original flameless explosion venting solutions. This work has already generated exciting new application areas such as for pneumatic conveyors for bulk materials. A new feature is a service camera, which can be used to inspect the interior of the Q-Box quickly and easily during explosion safety checks without the need to dismantle inspection hatches.
Recent innovations include sound insulation solutions which are integrated into explosion safety products, e.g. for mills or similar plants, and devices for protecting suction lines in pneumatic conveyors.
Until now, suction lines have been protected using air filters to prevent the entry of particulate contaminants and heavy non-return valves or explosion isolation valves, which lead to a significant loss of pressure. A modification to the Q-Rohr changes all that: the filter and isolation valve can simply be replaced by the Q-Rohr – a more cost-efficient solution both in terms of purchase price and maintenance.
A special camera now allows you to inspect the interior of the Q-Box in situ. This new accessory gives users almost instant view of the condition of the installed explosion vent. Moreover, it can be used to inspect the interior of the Q‑Box quickly after an explosion.