BAR PNEUMATISCHE STEUERUNGSSYSTEME GMBH⇥HALL/STAND 4-146
Valve control via directly top-mounted components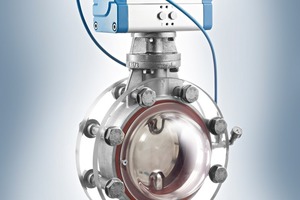 All bar pneumatische Steuerungssysteme GmbH
1 bar-ICS – a control system for valves with inflatable seals, which are installed, in particular, in systems designed for bulk-product applications
All bar pneumatische Steuerungssysteme GmbH
Pneumatic rack-and-pinion actuators, which control the operation of the process in combination with other components, such as pilot valves and positioners, have proven their worth in process engineering plants for the automation of rotary-actuation valves. External hose and pipe systems are susceptible to faults, and cause a high percentage of compressed-air losses.
bar GmbH supplies the bar-vacotrol system family for the integration and reduction of interfaces. Unlike conventional pneumatic rack-and-pinion actuators, bar's actubar type is equipped with a pneumatic interface on the top side of the actuator. The generation of diverse control components developed to match these systems operates both interfaces simultaneously. This top-mounted system is reliable, extremely compact, thanks to the absence of hose and piping systems, and extends servicing intervals significantly.
Specially developed adapter plates, which also offer these benefits, are available for combination with positioners supplied by the market's most renowned manufacturers.
Decentralised control systems with an integrated pressure measurement function have also been developed on the same direct-interface basis, are available in the same compact format, and can be used for special tasks in process engineering.
There is, on the one hand, a control system for valves with inflatable seals, such as are frequently used in the production and processing of bulk products. Both valve functioning and service life are improved by the use of this control system. The system controls the technological process during the valve's opening and closing phases. Abrasive media are therefore less able to ingress into the area of the seal. In such process arrangements up to now, seals have otherwise suffered damage more quickly, with leaks in the valve as the possible consequence.
This product portfolio is rounded off with a control system for manipulating elements, to ensure reliable and energy-efficient operation between the compressed-air generator and the compressed-air distribution system. Conditions in the compressed-air system are monitored by this control unit. Premature failure of refrigerated air dryers as a result of excessively high volumetric flows is thus prevented. Flexibly variable control-unit properties also permit further, individualised modifications of existing process conditions.