CLAUDIUS PETERS PROJECTS GMBH
Storage and unloading solution for major Lithuanian port company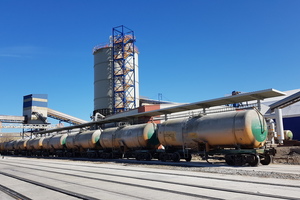 All Claudius Peters Projects GmbH
1 The railcar unloading system was designed to unload three railcars at the same time to a capacity of 200 t/h
All Claudius Peters Projects GmbH
At the end of March 2018, Claudius Peters successfully commissioned a silo and discharge equipment solution to Bega, one of Lithuania's first private stevedoring companies based in the Port of Klaipeda, a seaport located in Klaipeda/Lithuania. It is one of the few ice-free ports in northernmost Europe, and the only cargo port in Lithuania. It serves as a port of call for cruise ships as well as freight transport. Regular passenger ferry lines connect to Kiel, Karlshamn and other European cities.
The Claudius Peters supply comprised a rail car unloading system and a storage silo with pneumatic conveying for ship loading to unload three railcars simulta-neously up to a capacity of 200 t/h. The storage silo is a Claudius Peters 3300T Conventional Cone (CC) cement storage silo 27 m high, 12.5 m in diameter equipped with a silo bottom fluidization system, and has a capacity of 2700 m3.
A compact silo design means that this type of silo bottom needs less fluidization equipment and as a result less energy compared to other conventional silos. It guarantees excellent discharge characteristics, even for materials which are difficult to fluidize. Other bulk materials, like gypsum, quicklime and lime hydrate can also be stored and discharged with the CC silo.
The pneumatic conveying system utilizes a size 350 Claudius Peters X-pump and enables a total conveying distance of 205 m. Originally the project was based on a conveying distance of 148 m. During the project phase the customer decided to use two different quays with a conveying distance of 148 m and 205 m. Together Bega and Claudius Peters were able to fulfil this special requirement.